Art Gallery celebrates the 150th anniversary of the birth of East Riding artist Fred Elwell
Beverley Art Gallery – although still closed at the moment – is marking the 150th anniversary of the birth of local artist Fred Elwell on Monday June 29.
Thursday, 25th June 2020, 1:43 pm
Updated
Thursday, 25th June 2020, 1:44 pm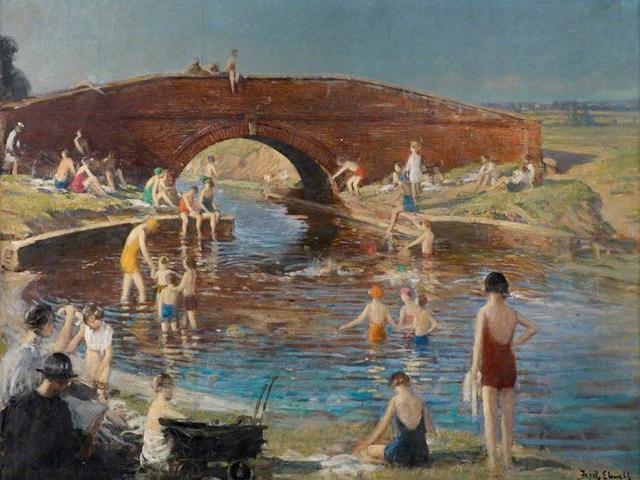 Brick Bridge, Swinemoor, East Riding of Yorkshire by Fred Elwell, 1930s
The Gallery features the UK's largest collection of Fred's work. Elwell's paintings are a permanent feature of the Edwardian 'red' gallery, located in the Treasure House in Beverley. The display is altered every year, with loans from both private and public collections.
The collection was recently enriched by several important paintings with support from the Friends of Beverley Art Gallery, and the V&A Purchase Grant Fund.
Beverley Art Gallery curator, Helena Cox, said: "At Beverley Art Gallery, we are dedicated to researching Fred Elwell's work and finding ways of making his varied art relevant in new ways. Although Fred's style can be described as traditionalist, there was a lot of 'quirkiness' in his life; he surely knew how to make the most of his bohemian days in Paris, and he brought great humour into his art, too.
"Fred was very open to artistic inspirations from abroad, spending every summer he could travelling through Europe and painting its dynamic and diverse landscapes. Here in Beverley, we are really lucky to benefit from the brilliant world-famous research of Professor Tim Barringer of Yale University in the USA, who provided us with exciting exhibition interpretation last year.
"We are also grateful for all the great work carried out by Wendy Loncaster and Malcolm Shields who published an extensive monograph of Fred's several years ago.
"We are excited about finding new ways of looking at Fred's art, working with scholars and students from near and far - from East Riding College to Yale University! The Fred Elwell story has so much to give us yet, and I am looking forward to the coming years of working on this together with our community!"
Nial Adams, museums manager, added : "The Beverley Art Gallery staff and the Friends of Beverley Art Gallery are looking at ways to celebrate this important anniversary later in the year. We are particularly interested in what young people think about Fred's work, and we are hoping to be able to work with local schools and colleges to find out more."
The importance of Fred Elwell is beautifully summarised by Professor Tim Barringer of Yale University, USA:
"Fred Elwell was born 150 years ago in Beverley. Although that seems like a long time ago, the world he knew has much in common with ours: when he was a child, the long period of Victorian prosperity gave way to recession and precarity. And Britain's relationship to Europe was an issue even then, with many British artists rejecting 'foreign' styles such as Impressionism. Fred was more cosmopolitan. The most English of artists, with a real feeling for local Yorkshire characters, he nonetheless acquired his mastery of technique through studies in Antwerp and Paris and knew the leading French artists of the 1890s.
"In 1914 he married Mary Holmes, a widow of some wealth who was also a significant and very skilled painter. Their work can be seen together in the gallery today. Fred was never happy in the London art world, though he was a Member of the Royal Academy and produced a wonderful group portrait of his fellow artists that hangs in Burlington House today. He was completely out of sympathy with Modernist movements such as Cubism and Surrealism, but his work nonetheless comments – in laconic Yorkshire fashion – on modern life. Fashions in art come and go (one 'ism' follows another) but Fred was consistent: he was a master of painting the human body, one subject which (as fellow Yorkshire artist David Hockney insists to this day) will never go away. His dry wit and his instinct for telling stories in paint makes his work as accessible now as the day he painted it. Happy birthday, Fred!"
It is hoped that visitors will again be able to come and see the Fred Elwell collection from July 6 with appropriate social distancing measures in place in the Art Gallery, located in the Treasure House in Champney Road. Further details will be announced soon.
Follow Beverley Art Gallery's social media @BeverleyArtGallery (Facebook) and @BevArtGallery (Twitter) for regular updates, and tune in to 'It's in the BAG' podcast available through the Active East Riding website : www.ActiveEastRiding.co.uk