Whitby girl Joanne Froggatt on what to expect from the return of thriller series Liar, on ITV tonight
Now that it's so easy to binge-watch television, water-cooler moments are rare. But when ITV drama Liar aired in autumn 2017, it seemed everyone was talking about it, with people avidly sharing their theories and opinions.
Monday, 2nd March 2020, 2:13 pm
Updated
Monday, 2nd March 2020, 2:13 pm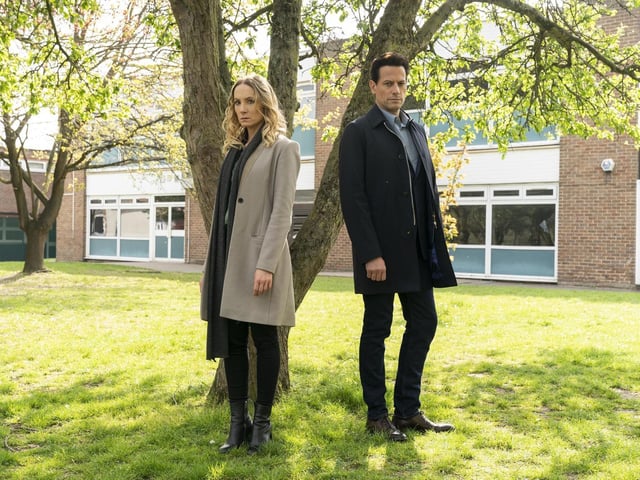 Joanne Froggatt as Laura Nielson and Ioan Gruffudd as Andrew Earlham. Picture: Two Brothers/ITV.
"Towards the end of the first season, I was going to the airport to fly to the States and literally all of the airport staff said, 'Oh my goodness! We've been talking about this in the loo all week for the past three weeks'," recalls Joanne Froggatt, who plays lead character Laura Nielson.
"From going through security to getting on the flight, I think 11 people came over super-excited and said they loved it."
Series 2 of Liar starts on ITV tonight, at 9pm.
The first series followed teacher Laura, and Andrew Earlham, a surgeon (played by Ioan Gruffudd), who, in the first episode, went on a date - and it seemed to be going well.
However, the next day, it became clear that something had gone wrong, and things spiralled out of control when Laura accused Andrew of rape.
Viewers were left asking the question: what had really happened that night?
A few episodes later, we discovered Laura was telling the truth, and Andrew is a monstrous sexual predator.
Then, with plenty of twists and turns along the way, the first series of the psychological thriller ended with Andrew dead.
"What we do in series two is go over the last three weeks between Andrew disappearing and turning up dead," explains Joanne, 39, famous for Downton Abbey.
"So, we go back over that time period to see who's the liar now, about who killed him, and how we got there."
Joanne, who was born and brought up in the village of Littlebeck, near Whitby, where her parents, Ann and Keith, started a rare breed sheep farm on a smallholding, has previously spoken of her love for playing "challenging women", claiming she likes a character she can get her teeth into.
"I do like people who have layers to them, who are not always what they seem, who appear as one thing, and who are actually quite another. And Laura is certainly that.
"I always find it the most satisfying, as an actress, to play women who are flawed, but human.
"My own way of creating these women is to look into their psychologies. What drives them, what makes them who they are?"
Back to Liar, and what state of mind is Laura in when we first see her in series two?
"We see her relatively together, in a happier moment with her and Ian, who is her fella she met in the first season," details Joanne.
"And then, very quickly, we move into the police have discovered Andrew Earlham's body, and Laura is under suspicion, along with every other character in the show for very different reasons - and some of our new characters as well.
"Laura quickly switches back into her very determined, forthright self. She feels very angry still about the injustice of all that's happened to her."
Joanne remembers how, after the first series was aired, at least six people came up to her to tell her their own personal stories which were similar to Laura's situation.
They shared that they had been sexually assaulted, and then weren't believed when they had spoken out about it.
"Someone told me their 19-year-old daughter had been assaulted and they'd been to the police and they knew who it was, but there's no investigation being carried out.
"She very kindly said to me, 'It was just so real - your anger was really exactly how we feel', which was a very grounding thing for me to hear.
"It's quite a responsibility to know that things like this do happen to people and those people are possibly going to be watching what you do. You want it to be as believable as possible for their sake.
"The worst thing for me would be someone watching what I do and think it was unbelievable, especially if they've been through that sort of experience themselves."
Viewers can be sure to expect many tense and distressing scenes in the forthcoming Liar, with Laura still haunted by Andrew and what he did to her, and flashbacks detailing more about the past.
Joanne says she's "really proud" of the decision by Jack and Harry Williams - also responsible for BBC's The Missing and Rellik - to only write two series of Liar.
"Their hope was that maybe there would be a second one, and that was as far as they wanted. They had this 12-episode arc that they could satisfyingly conclude in six, but would prefer to do 12. Then that's really going to be the end of Andrew and Laura's story. I think that's really brave and honest with the viewers.
"There's nothing worse than investing your time in something, and then investing your time again in the second season, and then you get to season three and think, 'Oh, it's all gone too far. I don't believe it'."