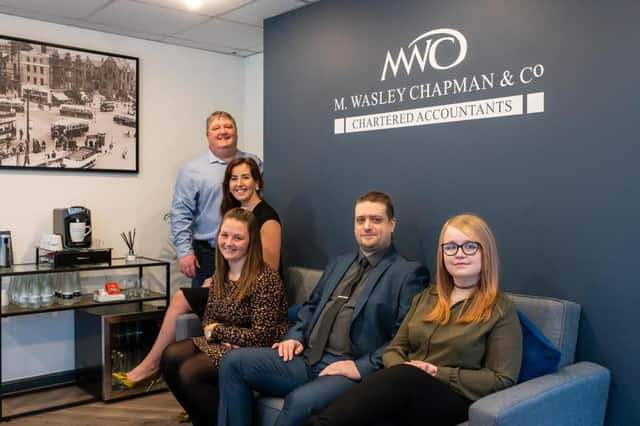 This service helps Yorkshire SME and sole traders with a wide range of accountancy solutions.
Wasley Chapman has been serving Yorkshire for over a century, recently moving to bigger premises in Scarborough to allow it to expand and take on even more business.
And new partner Emma Henderson has the customer at the forefront of her mind at all times. "I just want to make people's lives easier," she said, "leaving you free to concentrate on what you do best.
"Why should you spend hours on end trying to understand accounts – when you could be doing what you do best, running the business and generating income – Why wouldn't you seek the help of a professional? With our knowledge and experience, we can often save you more than our fees!
New partner Emma Henderson
"We take over as much or as little as you like, take the stress away whilst offering business and tax advice throughout.
Emma added: "So many people try to understand accounts and accounting, yet it is the bit they hate most about running their business. By taking the stress out of the business, many people wish they had done it sooner, seeing visible growth as well as having a better work / life balance.
For anyone that signs up in October, Wasley Chapman is offering free self-assessment tax returns for life*. The offer is open to anyone who engages in the accounts production service, and extends for as long as they remain a client with Wasley Chapman.
As well as wanting to make her clients' lives easier, allowing them to focus on growth, expansion or sales, Emma aims to shake-off the fuddy-duddy stereotypes of accountancy, offer her clients a friendly, approachable and modern service.
As well as being made partner at just 32, Emma is breaking a few other moulds: "Everyone still thinks of accountants as the stereotypical man in a grey suit talking maths all day. You tell someone you're an accountant and they immediately think you're boring," she said. "I like to prove them wrong."
She is also in charge of the firm's social media accounts. "I've made them bright and more interesting," she says. "We've made videos to catch people's eye and the feedback is really good. People are saying how great it looks and how helpful it is, which is ultimately what we're there for – to help people."
She adds: "That's the direction I have taken over the past few years. I want to change how businesses view their accountants so you're there as part of their team, not as someone they dread going to see. All my clients have my mobile number and they can call me any time. I'm pushing the firm into a more bespoke, relaxed approach."
The firm employs 30 people between its offices in Scarborough, Whitby, Saltburn, Redcar, Guiseborough and Middlesbrough.