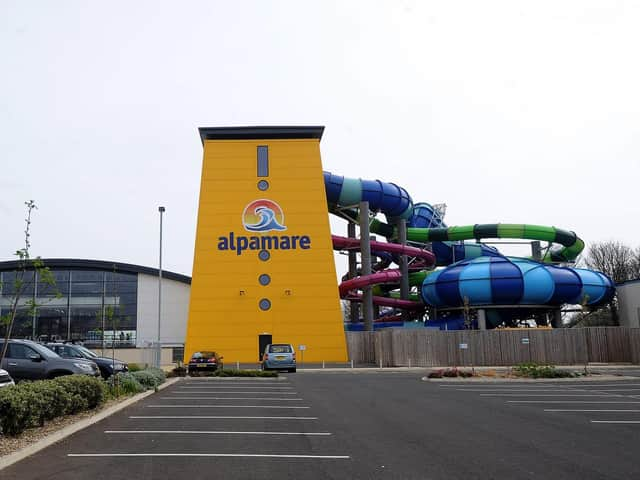 Alpamare attraction at Scarborough.
The Alpamare attraction in North Bay has lodged a planning application with Scarborough Council to create a new dedicated entrance to its wellness spa.
Applicant Benchmark Leisure says that the new entrance will "improve" the appearance of the building.
The application states: "By providing segregated access for customers who are only visiting to use the spa, the proposals will improve the accessibility of the building for all customers, helping to manage pedestrian flow around the complex and provide a better visitor experience.
"In addition, by increasing the visibility of the spa element of the existing leisure offer the scheme will help to boost the attraction of the site for tourism and improve the viability of the business."
The two-storey glazed structure will be to the side of the exiting entrance of the water park, which has had a difficult start to its life in the town.
In 2013 Scarborough Council gave a £9m loan to the developer of the Alpine-themed water park, Benchmark Leisure, to ensure the project went ahead.
It eventually opened to the public in 2016.
Last year, the operator of the Burniston Road attraction, Alpamare UK, was issued with a winding-up petition over unpaid debts to British Gas, the council and others totaling more than £3m.
As part of the process where Alpamare reached Company Voluntary Arrangement (CVA) to meet its debt Benchmark took over the running of the attraction.
The spa application is now out to consultation.