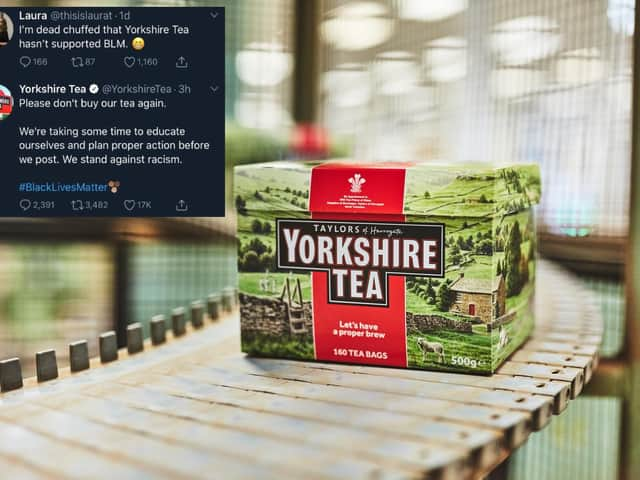 Yorkshire Tea and PG Tips have tweeted showing 'solidaritea' with the Black Lives Matter movement
The company joined rivals PG Tips in showing #solidaritea with anti-racism protesters who have turned out for demonstrations across the UK.
Protests began in the US after a video emerged of Mr Floyd, 46, being arrested on May 25 in Minneapolis, USA.
Phone footage showed him gasping that he could not breathe during the arrest by four officers.
They have since been charged over the death, which sparked days of protest in the US and demonstrations across the world.
But the brand, which is owned by Bettys and Taylors of Harrogate, hit back at the comment on Twitter.
Yorkshire Tea replied: "Please don't buy our tea again.
"We're taking some time to educate ourselves and plan proper action before we post. We stand against racism. #BlackLivesMatter"
The response has now been liked more than 50,000 times and PG Tips joined its rivals in supporting the Black Lives Matter movement.
PG Tips posted: "If you are boycotting teas that stand against racism, you're going to have to find two new tea brands now #BlackLivesMatter #Solidaritea"
A message from the Editor:
Thank you for reading this story on our website. These are challenging times but the team at the Yorkshire Evening Post need your support more than ever in the weeks ahead.
While I have your attention, I also have an important request to make of you. In order for us to continue to provide high quality and trusted local news on this free-to-read site, I am asking you - wherever possible and providing it is safe for you to do so - to also please purchase a copy of our newspaper.
Inevitably falling advertising revenues will start to have an impact on local newspapers and the way we continue to work during this period of uncertainty. So the support of our readers has never been more important as we try to make sure that we keep you connected with the city you live in during this time. But being your eyes and ears comes at a price. We need your support more than ever to buy our newspapers during this crisis.
Our team of trusted reporters are working incredibly hard behind the scenes - from kitchen tables and spare bedrooms - to look at how we can do this and your continued support to the YEP will help to protect its viability in the days and weeks ahead.
For more details on our subscription offers please visit www.localsubsplus.co.uk/YEP, email [email protected] or call us on 0330 4033004