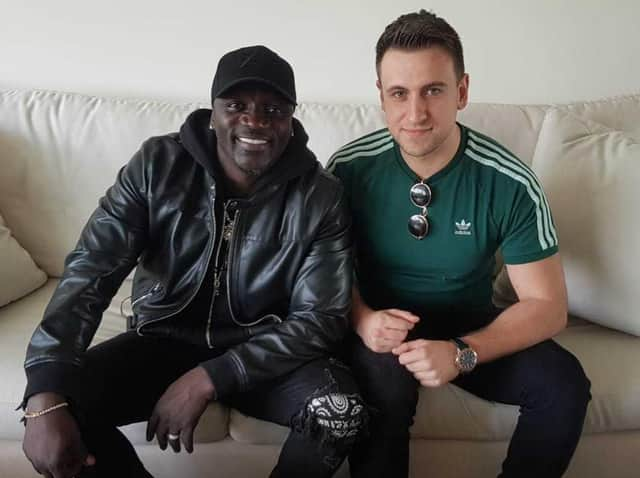 Erhan and US rapper Akon.
Erhan Korhaliller, 28, moved to the town from London at the age of 13 after his parents split up, lived in Northstead, and attended Scalby School and Sixth Form College.
Erhan experienced some difficulty settling in to life in Scarborough as a teenager.
He said: "The adjustment period moving from an urban city like London to Scarborough did take some time to get used to.
"My father is from Turkey so my name is Turkish which stood out in the classroom alongside a thick London accent.
"I am proud of my London and Turkish roots so it didn't bother me too much, to be reminded of what makes us different is something that should be celebrated, not mocked."
However, Erhan now has fond memories of school days here and formed some great friends during that time.
He also became a follower of local football.
"After I moved into the town, I did some work experience at Scarborough FC, and I became a big Scarborough FC supporter back in the day," Erhan said. "I used to go with the supporters club up and down the country every week to support the team.
"Whilst those long trips up and down the UK were a slog, they were such a laugh and the 5-1 and 0-2 beatings of York home and away in 2004 were two highlights."
At the age of 18 he got into Huddersfield University through clearing to study Business Management but racked up over £8,000 worth of credit card debt during his studies.
Following university Erhan surfed in London before joining AOL as an intern in the publishing department, soon finding himself headhunted by advertising giants AKQA and working as a project manager with clients such as Nike, Rolls Royce and Barclaycard.
Whilst working at AKQA he started his own business on the side, EAK Digital, a PR agency.
Though he initially started the agency to earn some beer money, its revenue soon enabled him to pay off university debts and then save £50,000 to leave his full time job and focus on his side project.
Erhan, who returns to Scarborough once or twice a year to visit family and friends, now focuses on global PR and marketing services in emerging technologies such as blockchain, artificial intelligence and Esports.
He has big ambitions for his company and is moving into the events industry as well as growing umbrella companies EAK TV, EAK Talent (a representation agency for emerging talent) and EAK Consulting.
Erhan added: "We are now working with superstars like American rapper Akon, and my aim is that EAK is a globally recognised brand within the next five years."