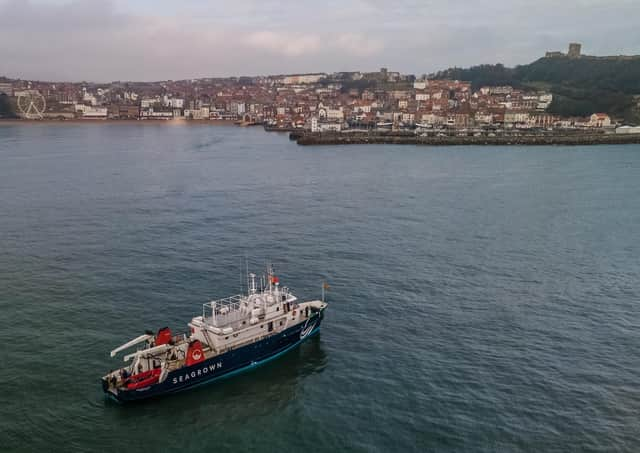 The Southern Star visitor centre could be in operation before Christmas depending on Government Covid-19 restrictions.
SeaGrown, a seaweed harvesting firm based in Scarborough, hopes to unveil the first phase of work on the ship, a public visitor centre, before Christmas (Government restrictions permitting).
Members of the public will be able to find out more about the company's operations, join the firm's representatives in the cafe area, and visit the SeaGrown shop.
The visitor centre will feature indoor, outdoor, and quayside seating, offering food and drink in a unique setting with beautiful views across the harbour and South Bay.
It is hoped the ship will host visitors for many years to come at the harbour site.
Wave Crookes, SeaGrown operations manager, said: "We're very excited to finally deliver Southern Star to her new home here in Scarborough. After months of hard work and planning up on the River Clyde we were finally able to make the passage home with her crew aboard.
"The hard work hasn't finished yet – we will now continue in earnest to open the visitor centre onboard to the public where we hope the people of Scarborough and visitors to the area will take time to enjoy the cafe and the views and also learn more about what we, as a seaweed farming company, are doing four miles off the coast and how good that work is for both people and the environment."
The passage home saw Southern Star and her crew travel some 700 nautical miles over four days from the River Clyde north through the Hebrides, across the top of Scotland past Orkney, before turning south and heading home to Scarborough.