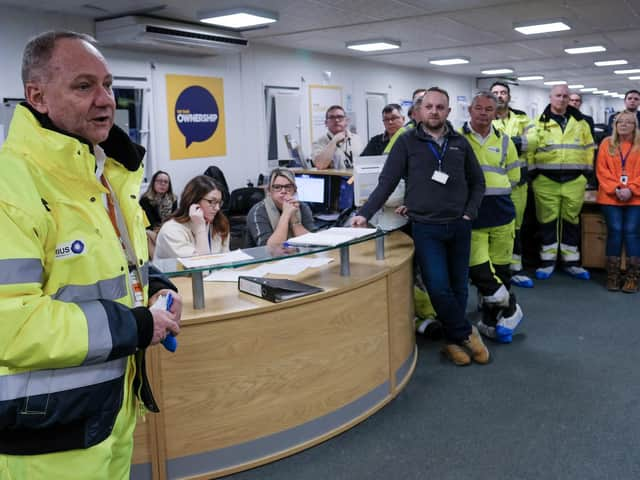 Mark Cutifani meets workers in North Yorkshire.
Anglo American has published its production report for the second quarter ended June 30 2020.
Earlier this year, the global mining company tabled a successful offer for Scarborough-based Sirius Minerals which is aiming to mine polyhalite, for use in the production of fertiliser, from its site at Sneaton, near Whitby.
Today, Anglo American said its Minas-Rio in Brazil continued its strong operational performance, with 6.2 million tonnes of high quality iron ore production, reflecting ongoing productivity improvements.
Covid-19 lockdowns across southern Africa affected De Beers, PGMs, Kumba and Thermal Coal, the company said.
Mark Cutifani, Chief Executive of Anglo American, said: "Anglo American has shown resilience in addressing the challenges posed by Covid-19, acting quickly to help safeguard the lives and livelihoods of our workforce and host communities.
"Our comprehensive response supported the continuity of the majority of our operations during varying degrees of lockdown in different jurisdictions, albeit at reduced capacity in many cases.
"Continued strong performances from our Minas-Rio iron ore operation in Brazil and the Collahuasi copper operation in Chile helped mitigate our overall decrease in production to 18% as we also addressed operational issues at our metallurgical coal and PGM operations.
"Building up from a production level of around 60% of total capacity in April, we continue to increase and had reached about 90% of production capacity by the end of June.
"Beyond the current business imperatives, we continue to ensure that our business is well positioned for the long term, including the nature of our portfolio evolution and societal responsibilities.
"During the quarter, we have confirmed our plans to work towards an exit from our remaining thermal coal operations in South Africa, in line with our overall trajectory towards later cycle products.
"And, benefiting from the ongoing transformation of our physical processes through our FutureSmart Mining programme, we set out our clear aim of achieving carbon neutrality across our operations by 2040 - an ambitious and important commitment for us as a business, for our employees and our diverse stakeholders."
Earlier this year, Mr Cutifani said he aimed to support thousands of job by pumping hundreds of millions of dollars into a Yorkshire mining scheme.
In March, Sirius Minerals officially became part of Anglo American. Mr Cutifani visited the site near Whitby and chatted to Sirius' employees.
Speaking in March, Mr Cutifani told The Yorkshire Post: "We have been to each of the sites and have been talking to staff and letting them know about our intention to support the project.
"We are supporting the project with 300m dollars over each of the next two years and we will deposit £1m into the community fund over each of the next three years.
"We are sitting down with the team and talking to them about what cash they need going forward."
Mr Cutifani said that 600 people were currently employed on the scheme, but it expects to employ up to 1,500 people during the construction phase.
When operational, the company expects to employ around 700 staff initially, with the potential to increase this number to 1,000 if the project expands to 20 million tonnes per annum of production, and a further 1,500 in the supply chain. The initial capacity is 10 million tonnes per annum.
"The spin off benefits are very important", said Mr Cutifani in March.
He said the mine would start to produce the polyhalite product in 2024 and production is set to begin at a full rate in 2026.
"The more people we can employ locally the better."
Editor's note: first and foremost - and rarely have I written down these words with more sincerity - I hope this finds you well.
Almost certainly you are here because you value the quality and the integrity of the journalism produced by The Yorkshire Post's journalists - almost all of which live alongside you in Yorkshire, spending the wages they earn with Yorkshire businesses - who last year took this title to the industry watchdog's Most Trusted Newspaper in Britain accolade.
And that is why I must make an urgent request of you: as advertising revenue declines, your support becomes evermore crucial to the maintenance of the journalistic standards expected of The Yorkshire Post. If you can, safely, please buy a paper or take up a subscription. We want to continue to make you proud of Yorkshire's National Newspaper but we are going to need your help.
Postal subscription copies can be ordered by calling 0330 4030066 or by emailing [email protected] Vouchers, to be exchanged at retail sales outlets - our newsagents need you, too - can be subscribed to by contacting subscriptions on 0330 1235950 or by visiting www.localsubsplus.co.uk where you should select The Yorkshire Post from the list of titles available.
If you want to help right now, download our tablet app from the App / Play Stores. Every contribution you make helps to provide this county with the best regional journalism in the country.