Scarborough car showrooms open again after two months of closure
Scarborough's car showrooms are open once more following more than two months of enforced closure.
Wednesday, 3rd June 2020, 9:42 am
Updated
Wednesday, 3rd June 2020, 9:44 am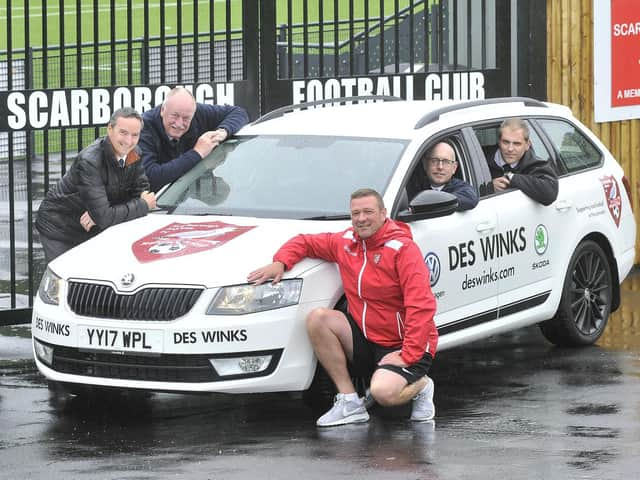 Des Winks sales manager Andy Veitch with colleagues pictured at sponsorship of a Scarborough Athletic car.
The Government permitted dealers to re-open on Monday, so long as they adhere to social distancing guidelines.
Several changes have been made, including screens at showroom desks and one-way systems.
Des Winks, on Hopper Hill Road in Eastfield, is one of the showrooms opening their doors once more.
Sales Manager Andy Veitch said they have been looking forward to welcoming customers back.
Test drives aside, he said the nature of their business means social distancing is fairly straightforward.
"We don't have the same footfall as supermarkets or high street shops," he said.
"We are open for people to drop in but we are also asking people to make appointments if possible to help us manage footfall."
The team at Des Winks is offering both unaccompanied and accompanied test drives, with full risk assessments and PPE available.
Mr Veitch said they are also utilising technology to guide people through vehicle controls and features.
While they were shut, they were one of several retailers running online buying options with a click and collect service for customers to drive their car away.
"We've sold quite a few cars online," said Mr Veitch.
The effect of lockdown has been devastating on the UK car industry, with new vehicle registrations down 97 per cent as dealerships.
They, along with many other businesses, were ordered to shut back in March by the Government in a bid to reduce the number of coronavirus infections.
Now they are open again, dealerships have had to put in clear social distancing guidance, such as signs or floor stickers reminding customers and staff to observe a 2m distance from other people at all times.
Other changes being introduced by car dealers include sanitiser stations being placed around showrooms and non-essential elements such as tea and coffee facilities, magazines and children's toys being removed.
Show cars are also being left locked and will be opened on request then cleaned and locked again between customers.