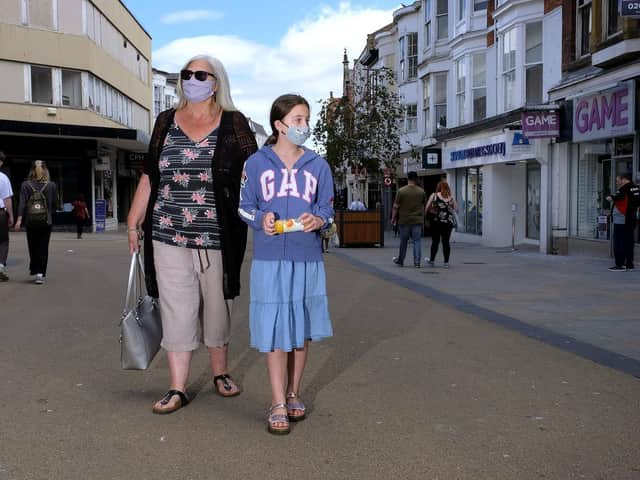 Shoppers wearing masks in Scarborough's town centre - a grandmother and granddaughter walk along Westborough.
Brunswick Shopping Centre's team will be donning masks to remind shoppers of the new law making face coverings a necessity from Friday.
Additional signage is in place and radio messages will be played over the shopping centre's radio system to make shoppers aware of the new rule.
From Friday, customers will also be reminded as they enter the centre that they should be wearing a face covering and advised where they can get one if they do not have one.
Manager of Brunswick Shopping Centre Sue Anderson Brown said: "We want to make sure customers are informed about the new legislation brought in by the Government.
"The shopping centre team are not legally obliged to wear face coverings but we will be doing so of our own volition.
"We won't be barring customers who are not wearing them.
"There will be customers who cannot wear face coverings because of health reasons.
"We're not in the position to challenge that, nor would we."
President of Scarborough Chamber of Trade Janet Jefferson has welcomed the new law.
"For the last few months, I have been wearing a face covering in shops and I have been seeing more and more people wearing them," she said.
"I don't think this is going to be a deterrent to business.
"We have to get this virus out of the country and move forward."
It is already the law that people must wear face coverings on public transport and from Friday they will also be required in shops and supermarkets.
The Government has said shops and supermarkets will be expected to encourage compliance with the law and can refuse entry.
If necessary, the police have the powers to enforce these measures, including issuing a fine of £100.
Meantime, Mrs Anderson Brown said Brunswick Shopping Centre has been seeing an increase in footfall since non-essential shops reopened last month.
She said traders are reporting fewer customers than usual but people are spending more than before lockdown.
"There is less browsing, more buyers," she said.