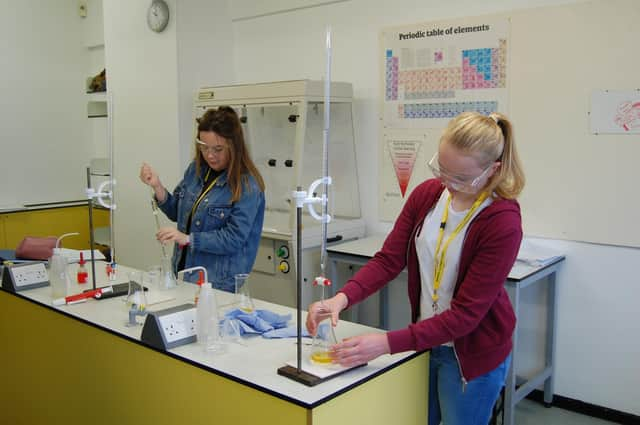 Sixth Form could shape your life ahead – Lady Lumley's offers a wealth of opportunities and here's your chance to find out more.
Clair Foden, Headteacher of Lady Lumley's School, invites potential students to find out more. In an open invitation to prospective students she said: "A very warm welcome to all our potential Year 12 students. At Lady Lumley's we are driven to 'Be our best' in all we do and are ambitious for all our students to make progress. We are proud of our academic results which give our students the best life chances and are the product of a school that invests in high quality teaching and learning. Our thriving Sixth Form is a fantastic goal for students to aim for, and we are very much looking forward to Year 11 students joining us in Year 12 and then preparing them for the next step to Higher Level Apprenticeships, University and Employment.
"Being a student at Lady Lumley's gives students a wealth of opportunities to develop their interests and build an understanding of the 21st Century locally, nationally, and internationally. Maximising the countryside on our doorstep we run a very popular Duke of Edinburgh provision with accommodation in Rosedale. Lady Lumley's has fantastic facilities, with extended grounds for Games and use of an on-site Sports Centre. There are specialist classrooms and professionally qualified and experienced teachers for practical and academic subjects."
"We are proud of our success and are committed to improvement in all areas, so our students, staff and community thrive."
Achieving full potential – whatever your ambitions
Lady Lumley's Head of Sixth Form, James Ambrose, said: "The time that you spend here at Lady Lumley's School in the Sixth Form may be relatively short, but it is tremendously significant in terms of your personal and academic development. Our students leave the school with good academic qualifications, securing a variety of appropriate pathways, including Higher Level Apprenticeships, University and Employment."
"We are a friendly Sixth Form community where all students are encouraged to achieve their potential. Teaching and learning is consistently good; you will receive appropriate and timely advice and guidance from an experienced team; and opportunities through our enriched learning programme go from strength to strength. Whatever your interests and career ambitions, you will find your experience with us challenging and enjoyable."
More than a classroom – wellbeing matters
Fiona Allan, Years 12 & 13 Pastoral Manager, explains why the school is more than just about academic learning.
"Here at Lady Lumley's Sixth Form there is an experienced pastoral team supporting students both academically and socially. Alongside a full-time non- teaching pastoral manager, students are assigned a Form Tutor to deal with any issues that arise for both students and parents."
"We promote positive well-being and provide emotional support to students when they need it.
"Being a student at Lady Lumley's Sixth Form is not just about the classroom, it is an all-round lesson for life and the future."
More information about Lady Lumley's Sixth Form can be found on their website here.