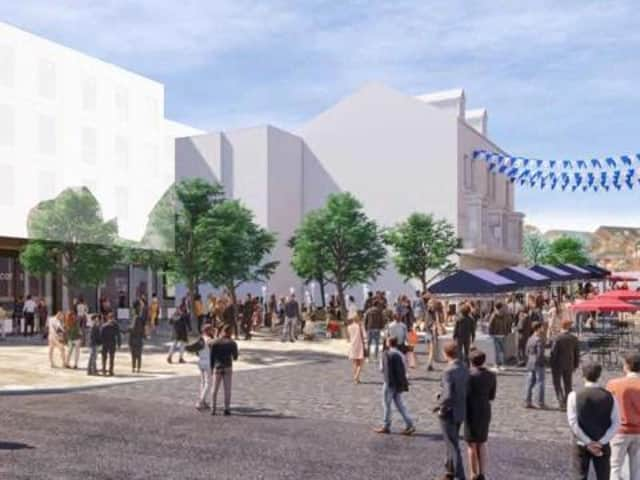 An impression of how the student area could look.
Cllr Steve Siddons (Lab) said that there had been "great deal" scrutiny of the decision, which will see the council borrow the money to demolish the former Argos building in Newborough and replace it with a scheme drawn up in collaboration with Coventry University Scarborough and the York Teaching Hospital NHS Foundation Trust.
The Conservatives called-in the cabinet's decision to proceed with the scheme last month, citing concerns around the impact on the council's finances due to the pandemic.
At a specially arranged Overview and Scrutiny Board earlier this month, the scheme was backed by councillors by five votes to four after the Conservative chairman of the committee, Cllr Guy Coulson, gave his support to the project.
At today's cabinet meeting, Conservative deputy leader Cllr Heather Phillips once again asked for the scheme to be sent to audit.
In a written question she said: "The present administration is relying upon support for the decision by a total of five elected members on the Overview and Scrutiny Committee, four others on the same committee did not support the project.
"Effectively 32 other non-executive members have been disenfranchised.
"How can the administration believe they have a mandate to proceed without full council being able to revisit the decision made a year ago, it is a 'pre-Covid decision for a post-Covid world'.
"Are the present administration so worried about this project being properly scrutinised that they are seeking to push this through while the council is still in limbo and unable to meet physically?
"It seems to the casual observer that there is an indecent amount of haste being shown."
In response, Cllr Siddons said that the Conservative Group's concerns had all been addressed in "great detail" during two public meetings of the Overview and Scrutiny Board.
He added: "I would add, Cllr Phillips, that is how democracy works as you demonstrated in your party when you demolished the Futurist Theatre by just one vote."
Cllr Siddons was referring to the 2017 decision to demolish the seafront building at a cost of more than £4m to authority taken under the previous administration.
That decision passed by 22 votes to 21 when a lone Labour councillor voted with the Conservatives.