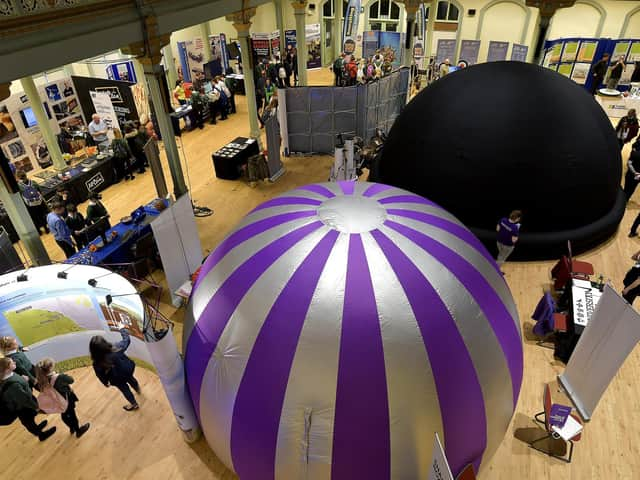 Engineering Week at The Scarborough Spa in 2019.
Local, regional, national and international employers are coming back together for the vital need to support young people post-pandemic with their career choices.
It will be a face-to-face event at the Spa from October 12-14, alongside an opportunity to support more young people access the event digitally.
More than 30 employers and organisations will show how science, technology, engineering and mathematics are so important in the real world.
Scarborough 6th Form student Taylor-Jade Hudson at the Sneider Electric stand in 2019.
It aims to inspire students to consider the exciting opportunities that studying and working in such sectors can open up to them.
Scarborough Business Ambassadors and engineers Unison started the event - they say it has attracted more than 33,000 students, inspiring a future workforce into skill-based careers.
The packed event will attract more than 2,000 young people aged from seven to 19, from schools across the coast.
They will see innovative approaches to engineering, low carbon and green energy solutions. This will include two zones this year:
Ben Fenwick from Scarborough Tec with Samantha Richardson exhibiting chemistry from the University of Hull in 2019.
Hands-on activities in the 'Employer Zone,' delivered by leading businesses.
Colleges and others in the 'Post-16 Zone,' supporting young people to discover opportunities.
A evening careers session for families and young people on the opening Tuesday from 3.30pm to 5.30pm.
Peter Wilkinson, event co-founder and chairman of the Ambassadors, said: "We are delighted to be back at the Spa with a real-live event for the biggest platform of hi-tech businesses and manufacturers in the area."
Sean Craven on the Third Energy stand in 2019.
"This is about providing great career opportunities and filling skills gaps in vital sectors.
"It will inspire young people of all ages who can see for themselves what brilliantly varied companies there are to work for."
The event has raised £2.8m in sponsorship since it began.
The York and North Yorkshire Local Enterprise Partnership alongside the Careers and Enterprise Company is again a leading supporter.
Sam Alexander, who chairs the LEP's Skills and Employability Board said: "This is a hugely exciting annual event, helping to build aspiration and opportunity for young people across the coast and beyond.
"This year's programme includes a targeted launch of apprenticeships towards young women. This stretches the approach of the event, to not only drive development of hands-on skills for innovation and technology driven sectors, but to also ensure that workforces of the future capture the significant advantages of diversity and inclusion.
"We're always keen to support initiatives of this kind and it's great to see the Scarborough Science and Engineering Week once again bringing business and education together and creating opportunity for young people to thrive in a greener, fairer and stronger economy."
The headline sponsor is Anglo-American and its External Affairs Director for the company's Crop Nutrients business, Gareth Edmunds, said: "Events such as Scarborough Science & Engineering Week are critical in trying to ensure we equip our young people with the skills they need for the future.
"From our perspective, it helps to develop the skilled local workforce that we are trying to build for the Woodsmith Project. We are incredibly proud to support it."
North Yorkshire County Council is again providing transport for schools to take part. Scarborough Borough Council is providing the Spa as the venue again, at no cost.
The 2020 event was delivered digitally, due to the coronavirus pandemic.
The Scarborough Science & Engineering Week schedule is:
9:30am-2.45pm Pre-registered secondary schools and colleges
3.30pm-5.30pm Families and young people Careers Evening
9.30am-2.45 Pre-registered secondary schools and colleges
1pm-2.45 Students with additional needs
Business Dinner and Awards
9.15-3.15 Pre-registered primary schools