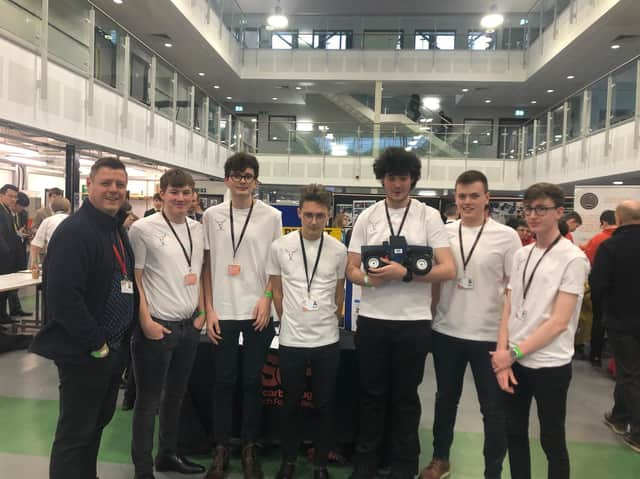 The team with their car.
The North East England regional final of the "4x4 in Schools" competition run by Jaguar Land Rover took place on Friday February 7 in Durham.
The team of students beat entrants from across the region to take home the top prize.
Self-named The Brisket Boys, the team is made up of Thomas Middleton, Turnbull, Liam Mansbridge, Jacob Letten, Aaron Coates, Matthew Byford-Loggie and Jake Turnbull and is led by engineering teacher Andrew Bennington.
From left: Matthew Byford-Loggie, Aaron Coates, Jacob Letten, Jake Turnbull, Liam Mansbridge, Thom Middleton.
They have been sponsored by SikSilk, Ellis Patents, Virtual3D and EmailMovers.
For the final, the group was tasked with building a radio controlled 4x4 car body from scratch subject to limits set by the competition organisers.
The car had to perform well on an off-road track, had integrated electronics to switch on automatic headlights and included tilt sensors for stability.
The students won first prize for their car and also took home the Best Engineered Car and Best Track Performance awards.
They will now be fast-tracked to the top 500 applicants for a prestigious JSC Engineering apprenticeship which usually attracts up to 100,000 applicants and are already planning for the national final held in Coventry on 23-24 March.
The National Champions from each country are then invited to compete at the Land Rover 4x4 in Schools World Finals.Teacher Andrew Bennington said: "I would first like to thank all of our kind sponsors and the leadership at Scarborough Sixth Form College, without whose support we wouldn't have been able to enter the competition.
"I'm immensely proud of our students and the hard work they have put into this.
"The next challenge for the students is to build a big enough trophy cabinet."
If you would like to learn more about studying at Scarborough Sixth Form College, an Open Evening is being held at the college on Thursday March 5 from 4pm.