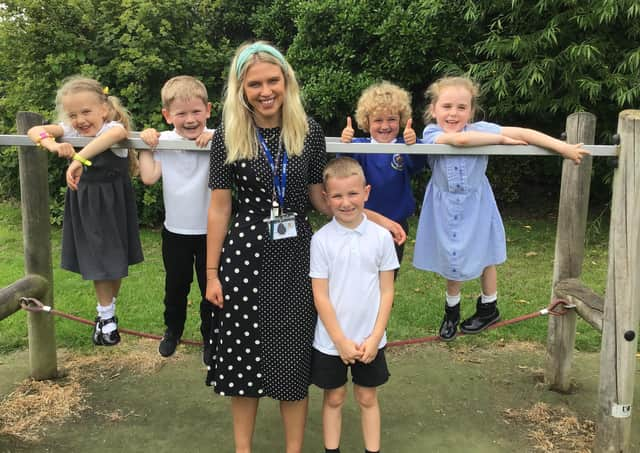 Award-winner Miss Jay Fenby with some of the youngsters of Stakesby School.
Miss Fenby, who joined Stakesby last September, was nominated for the Yorkshire Coast Radio award by a number of parents of children in her class.
The news that she had been announced as one of the winners was broken over the phone by host Paddy Billington on his breakfast show Paddy in the Morning – and came as quite a shock to the surprised teacher.
"I had no idea about the nominations so the phone call from Yorkshire Coast Radio came as a huge surprise," said Miss Fenby.
"I feel incredibly lucky that my pupils and their parents chose to show their appreciation in such a lovely way.
"The children in my class are very excited that I have been chosen as a winner and I haven't stopped smiling since – I am so touched."
Vice Principal Emma Robson said: "We're all delighted for Miss Fenby. We know how highly her pupils and their parents think of her, and rightly so.
"Since she joined us in September, she's demonstrated what a wonderful teacher she is – the standards of learning in her class are extremely high and the children love coming to school."
The nomination came from parent Lisa Grason, whose son was in Miss Fenby's class. She added: "She is a truly amazing teacher who has won the hearts of the children and parents of her class. I wanted Miss Fenby to know just how much we value and appreciate her work.