Bridlington man Steve Tighe ready to take on World's Toughest Mudder in memory of Peave Bellerby
A Bridlington man who is hoping to raise £20,000 for charity will tackle the World's Toughest Mudder race this weekend.
Thursday, 14th November 2019, 9:58 am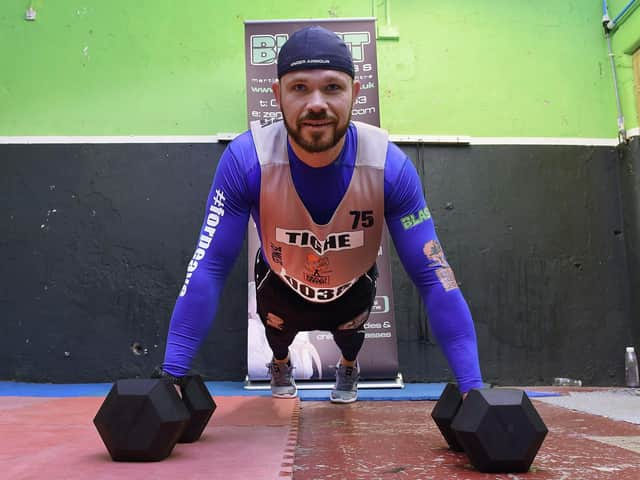 Steve Tighe is ready to take on the challenge. Picture by Paul Atkinson pa1942-8b
Steve Tighe is making his way to Atlanta in Georgia today in preparation for Saturday's competition which will push himself to the limit physically and mentally.
The gym owner of Blast Fitness in Bridlington decided to take on the World's Toughest Mudder for the fifth time in memory of one of his closest friends Peave Bellerby.
Peave died of cancer in February at the age of 55 and Steve is hoping to raise as much money as possible for Cancer Research UK and Candlelighters.
Steve is going to tackle the Worlds Toughest Mudder in memory of his friend Peave Bellerby.
"Peave is originally from Leeds and loved charity work especially for kids - he was a real family man. That's why we have chosen Candlelighters.
"If £20,000 is raised each charity will receive £10,000 which is just incredible."
The former Royal Marine is aiming to place in the top 10 and cover 80 miles - which will be his best ranking to date.
He qualified at Europe's Toughest Mudder and from completing 75 miles in a previous competition which earnt him a world ranking of 11th.
Steve Tighe.before starting a 12-hour training session. Picture by Paul Atkinson PA1942-8a
World's Toughest Mudder is a 24-hour endurance race that challenges participants to complete as many five-mile laps as possible, overcoming cliff jumps, electric shocks and water obstacles.
This will be Steve's last World's Toughest Mudder and will be "hanging up his trainers" after Atlanta but this time around he says he is physically and mentally prepared.
"The biggest difference this time is the whole Peave factor," said Steve. "His death has set me off on a training mission like never before. The fact that I am doing this for Peave has made it a very personal journey for me and it's completely changed my training ethos.
"It has added a real dimension to my training. I am doing it for Peave and it feels effortless at the moment.
"Peave was brilliant, he was walking morale, a legend, constantly having a laugh, but at the same time a great guy. He was a true family man, an absolute grafter, worked super hard and played even harder and he was well respected in the town."
Steve feels like he is physically ready to go head-to-head with some of the best athletes in the world.
"It's rock hard but this time I'm injury free and in the past my injuries have stopped me. I took last year off to fix and rehabilitate myself so I was 100% for this one.
"You have to put in the mileage to get the results and I've wanted to better myself so this year I'm ready."
Over the last year, personal trainer Steve has been working with osteopath Neil Corcoran to 'be the best he can be' as he feels "he's not had a fair shot at what he can achieve until this year".
His physical training has helped him prepare but Steve believes he has a "mental edge" this time around as he will have the support of his pit crew including Neil and Dawn (Peave's wife).
"Peave would have been there in Atlanta and we were talking about it in his last few weeks, but obviously at that point we had no idea it would be his last few weeks. We were talking about looking forward to Atlanta and getting him strong and better, being my pit crew again, but I am over the moon that Dawn is still coming out with me as pit crew. This will be a massive boost to me. It's going to be like Peave being there and I am really excited about that."
The fundraising total currently stands at £19,300 in what Steve describes as an "incredible response from the town".
A goal of £10,000 was initially but after that target was hit Steve doubled it which will see him raise £50,000 for various charities in his Tough Mudder journey.
"I have had an incredible response from the town and we set a goal of £10,000. We quickly realised how well loved and respected Peave was in the town and pretty much hit the target straight away. So we increased it to £20,000 and we are almost there.
"This has been an amazing way to finish off and I've loved every event especially raising money for charity.
"When it gets to zero degrees after sundown and your running in a wet suit to remember that £20,000 has been raised it will be worth it. Thank you to Bridlington community and friends and family who have helped along the way."
Some of the big fundraising events have included 'Graphtonbury' at the Telegraph, Bridlington Town AFC ex tigers charity football match, six-a-side tournament at Bridlington CYP and Gavin Kelly's sponsored 12-hour training session with Steve involving running, cycling, circuits, sea plunges and Sewerby steps from 7pm until 7am.
Business sponsors include Big Juice, Venture Sea Foods, Rags Restaurant, Lloyd Dowson, The Property Shop, ALM Groundworks, The Nail and Beauty Bar, Ideal Building Systems Modulec Ltd, Richard Booth Wealth Management, DeTech (Europe), PBS Construction, Watts Construction, Quintessential, Yorkshire Fleet, Ruby Soho Coffee, Ship Inn Sewerby, The Lodge and Neil Corcoran Osteopathy.
Steve will take on the World's Toughest Mudder on Saturday (November 16) at 12pm (5pm UK time). A live link to track Steve's progress will be available through his Facebook page.