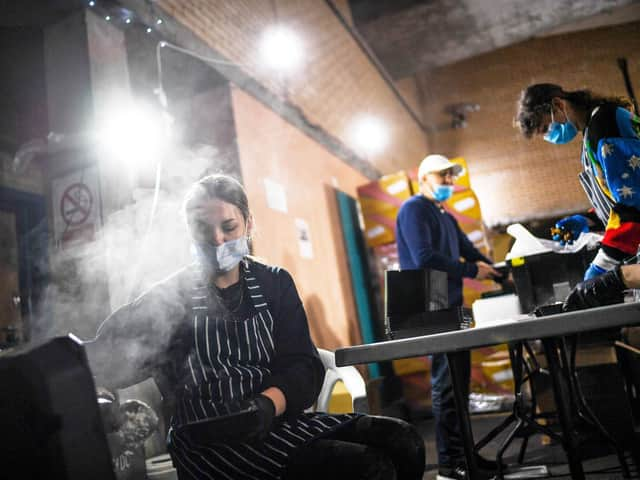 Cash means vital services can continue
Twenty six organisations across North Yorkshire have each been granted up to £10,000 to help those struggling to afford food and essential following the Covid-19 crisis.
The funding comes after the Government - DEFRA's Local Authorities Emergency Assistance Grant for Food and Essential Supplies - made a provision of £63 million to be distributed to local authorities across the country.
Since the start of the Covid-19 pandemic, support organisations within communities across the county have helped to provide food deliveries, picking up medication and simply being a friendly face during dark times.
It includes food banks and community kitchens and fridges – with many of the organisations helping to combat food waste along with providing hot meals and store cupboard staples.
Gary Fielding, corporate director for strategic resources, said: "It's wonderful that organisations within the community can utilise the Defra grants to continue to help those most in need across North Yorkshire.
"The army of volunteers and members of the public there and willing to support is incredible, as always, and it's just another measure to ensure that no-one in the county slips through the cracks.
Help is still there in every community where it's needed. People who need support with shopping, prescriptions and other essentials but don't have anyone to call on, or anyone concerned about the welfare of someone else, can contact North Yorkshire County Council's customer service centre on 01609 780780. The centre is open seven days a week 8am to 5.30pm.
Among those receiving a grant is Scarborough and Ryedale Carer Resource.
Since March, it has tailored its response within the community to help the people who need it.
Claire, the development manager at Scarborough and Ryedale Carer Resource, said: "Almost as soon as lockdown hit in March we were operational and taking 30 calls a day.
"Some of the calls were quite traumatic and worrying – there were a lot of conversations about food poverty and people worrying about how they would get food if they couldn't go out.
"We mobilised a team of 140 volunteers who were fully DBS checked and trained, ready to sort those calls out.
"We'd link a caller with a volunteer who would sort out what they needed and how they'd pay for their shopping."
Claire said that they realised generally there was a lot of food inequality and so they decided to develop ideas like a community kitchen and working closely with food banks.
"We've been engaging a lot of partners to help to address the issues. The DEFRA grant came at just the right time because they are helping us to develop a more secure solution to the food inequality problem," she said..
"An organisation we work with called Community Smart is taking the community kitchen from a free model to a paid model with subsidised food for those who need it, using the grant to get started.
"Another grant will help to run three community fridges and open a fourth in Kirkbymoorside, which is important because it addresses food waste along with food inequality and helps to dispel the stigma of using them.
"Working with food and trying to find a solution really seems to have galvanised everyone working together, which can only be a good thing."