Scarborough borough's coronavirus infection rate lowest in North Yorkshire as lockdown delay announced
Scarborough's coronavirus rate remains the lowest in North Yorkshire as the nation faces up to another month of Covid restrictions.
Tuesday, 15th June 2021, 9:09 am
Updated
Tuesday, 15th June 2021, 9:12 am
The borough's seven day rate per 100,000 is at 17, up four on yesterday.
The overall rate in North Yorkshire has jumped from 41 to 44 and the rate for England is up two to 72.
Last night, Prime Minister Boris Johnson announced a delay of up to four weeks on the planned end of coronavirus restrictions that had been scheduled for next Monday.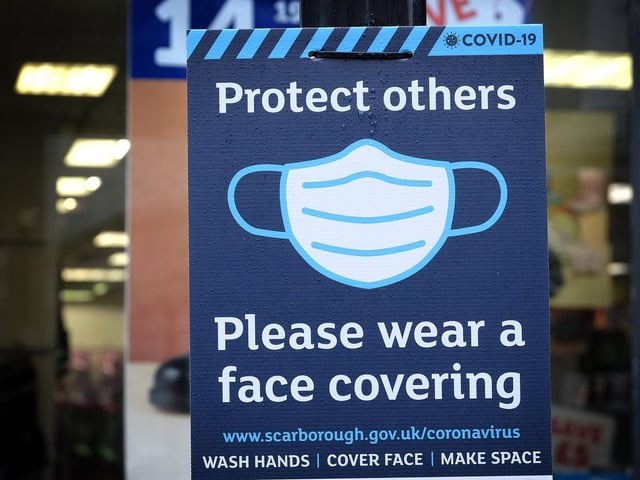 The borough's seven day rate per 100,000 is at 17.
The delay will allow more people to get vaccinated as cases of the Delta variant of Covid-19 continue to rise.
In his address to the nation Mr Johnson said he believed that July 19 would be the final day of restrictions.
He said: "By Monday July 19we will aim to have double jabbed around two thirds of the adult population including everyone over 50, all the vulnerable, all the frontline health and care workers and everyone over 40 who received their first dose by mid-May.
"And to do this we will now accelerate the second jabs for those over 40 – just as we did for the vulnerable groups – so they get maximum protection as fast as possible.
"And we will bring forward our target to give every adult in this country a first dose by July 19 that is including young people over the age of 18 with 23 and 24 year olds invited to book jabs from tomorrow – so we reduce the risk of transmission among groups that mix the most.
"And to give the NHS that extra time we will hold off Step 4 openings until July 19 except for weddings that can still go ahead with more than 30 guests provided social distancing remains in place and the same will apply to wakes.
"And we will continue the pilot events – such as Euro2020 and some theatrical performances. We will monitor the position every day and if after two weeks we have concluded that the risk has diminished then we reserve the possibility of proceeding to Step 4 and full opening sooner.
"As things stand – and on the basis of the evidence I can see right now – I am confident we will not need any more than 4 weeks and we won't need to go beyond July 19.
"It is unmistakably clear the vaccines are working and the sheer scale of the vaccine roll-out has made our position incomparably better than in previous waves."
Mobile testing facilities will be available in Whitby, Scarborough and Filey this week for anyone with symptoms to get tested.
William Street Coach Park in Scarborough is also still offering testing seven days a week from 8am until 8pm.