Team North Yorkshire helping the elderly in Whitby
Two years ago the word coronavirus wasn't in our vocabulary. We had no idea that the entire world would change beyond recognition and that we would all soon be living under restrictions that we could never have anticipated, let alone adapt to, writes Louise Perrin.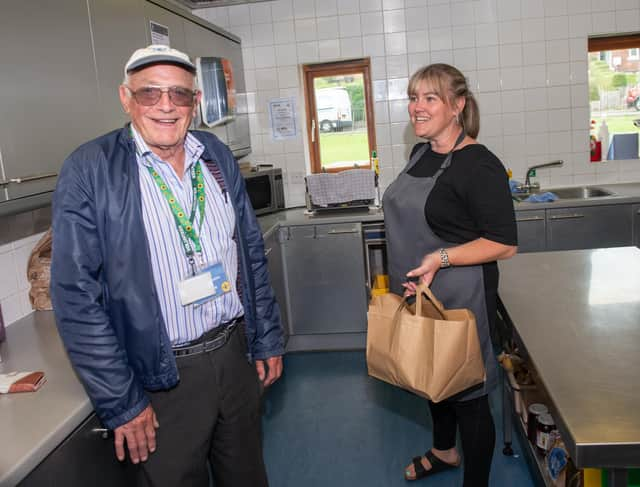 Doug Riby and cafe owner Kelly McGough
For many, the advice that your front door is the best protection against coronavirus made sense and people were happy to lockdown in their homes to keep themselves and their loved ones safe.
As the pandemic has continued, however, it has become apparent that covid-19 is something that we are all going to have to learn to live with.
The question is how do we return to normal, when normal has become to live away from those around us?
There are many people who are still apprehensive about everyday tasks like going shopping or for a day out.
But if we respect and protect each other by sticking to the covid prevention basics such as wearing a face covering in busy public spaces, keeping up the good hand hygiene, testing ourselves regularly at home and having both doses of the vaccination, it will be possible to return to living our lives surrounded by the love and laughter of other people.
One way people are starting to get out and about is with the help of community support organisations such as Age UK Scarborough and District.
Since the pandemic started, Age UK Scarborough and District has helped to address problems such as loneliness and isolation.
Neil Bradbury, CEO at AGE UK Scarborough and District with Doug getting deliveries organised
Services have included making food deliveries and acting as a food bank, to ensure those affected by poverty or isolation were not left without groceries, while a meal service also helped the vulnerable.
One person who benefitted from these services since the pandemic started is Dorothy Hodgkins, 85, who lives on Barr Street in Scarborough. She said: "I live on my own, so it's been very helpful. I wouldn't have had anybody else, so I relied on it.
"The lady that calls with the shopping is very nice, and a lady called Pamela still rings me every week and has a chat for a few minutes and tells me what's going on.
"They've been very good, I couldn't have managed without them.
"I don't go out that often as I can't walk that far. It's nice to know that they're there."
Doug Riby has been delivering meals for Age UK Scarborough and District since before Christmas.
Doug, 83, was encouraged to help out by his daughter who worked for Mind and now , each week, he completes an 18 mile route which takes him from Osgodby to Northstead to deliver ready cooked meals to 15 regular clients.
He said: "We deliver to a cross-section of people. Some we don't even see, I just ring the bell and leave, while other people want a natter. My time's my own and I was one of the first to be double jabbed, but I still take precautions and wear a mask where necessary."
Age UK Scarborough and District's Neil Bradbury said: "For many people covid is still very much alive. People are still having to self-isolate for a week or two.
"We are still helping people who are vulnerable and still helping with meals. We are still helping with payments and still doing our befriending project.
"It's still all hands to the pump, we're still very much here. We're working with MIND to offer mental health support.
"What we're trying to do is schedule more activities to encourage people to try to engage
"Last year we started to work with KellyMcGough at Bibo Cafe on Seamer Road. She produced reasonably low cost meals that were such good portion sizes, some of our service users would split them in two days.
"We're still supporting about 15 people each week with these meals.
"There's a strong working relationship between all the charities in Scarborough. It's great to have different tools to reach all kinds of people in Scarborough.
"Before the pandemic, Age UK had just opened a new building and were planning all sorts of services in the building. That had to be put on ice.
"As an organisation we just pivoted and changed what we were doing, to look at what could be done to help all the people of Scarborough.
"Some of it was totally new, though some was familiar – they got stuck in and are still stuck in.
"We had a massive influx of volunteers, around 140 people put their names down. There was a massive outpouring from people asking what they could do to help."
Through the autumn it is expected more services will be provided through the new building, as intended, but it is likely the face of Age UK in Scarborough will change for the long term.
Activities which have already started include: Yoga on a Friday afternoon (currently full).
A coffee morning is held every Friday from 10.30am-12.00 noon and a special session - Creative writing is Writing for Mental Health - autumn theme will take place on Wednesday September 22 from 3.00pm-5.00pm.
"Some services are coming to an end, but with others we want to see how we can continue them into the future," said Neil.
"One thing we want to do is keep volunteers engaged. This has been a once in a lifetime event and it has brought an amazing show of solidarity, with people really wanting to help each other."
For more information or to book a place or put your name down call 01723 339838. Find out more here.