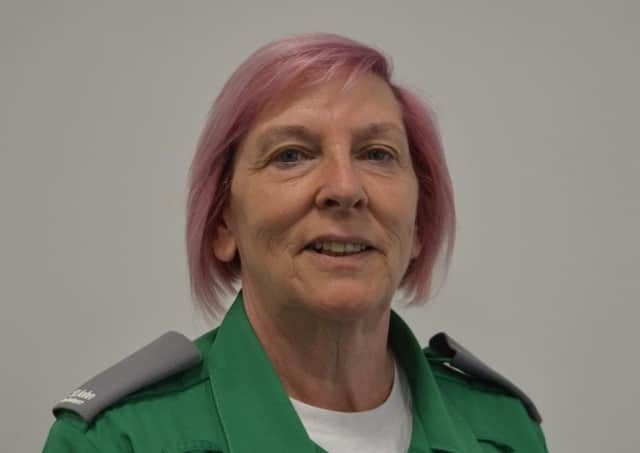 Daryl Perkins MBE, district manager at Humber and East Riding District St John Ambulance.
Daryl Perkins, district manager at Humber and East Riding District St John Ambulance, received the honour for voluntary services to St John Ambulance and to Young People.
Daryl, 59, has given more than 40 years of voluntary service to St John Ambulance, holding some of the organisations most senior national positions, alongside her professional career as a specialist nurse and supporting a specialist charity committed to preventing childhood asthma deaths.
Daryl also supports young people within the organisation's cadet divisions, with a keen focus on ensuring provision is there to support some of the county's most deprived and remote children in Hull and along the east coast.
As county commissioner youth, she was responsible for supporting all youth groups in the region, giving thousands of hours each year as well as organising annual youth camps of up to 150 young people.
She was the organisation's county nursing officer for many years and now serves as the district manager, responsible for all operational St John Ambulance activity across her patch – encompassing a fleet of seven ambulances and over 100 adult volunteers.
This role has seen her play a crucial part during the Covid-19 pandemic.
In parallel to her operational roles she has been a stalwart of the Order of St John, the SJA charity's royal parent body.
Daryl has developed the organisations honours and awards recognition system, visiting groups to support them in navigating the system and writing high quality citations leading directly to more members receiving recognitions.
She chairs the initial screening committee for the honours and awards.
Daryl has also supported Breathe For Cameron, a charity created following the asthmatic death of a local boy, and a key member of their volunteer team, organising fundraising events and dinners raising tens of thousands of pounds to keep their vitally important work going.
Daryl said: "I was initially very surprised and honoured when I heard I was going to get the MBE
"The Cabinet Office actually contacted me while I was at work so I had to put the phone down and call them back a short while later.
"They didn't really say what the call was about at first and they told me they had sent an important email.
"I am hugely, hugely honoured to be awarded the MBE.
"I have known about it for a few weeks now and although I do not know nominated me, I understand it came from within the St John organisation."