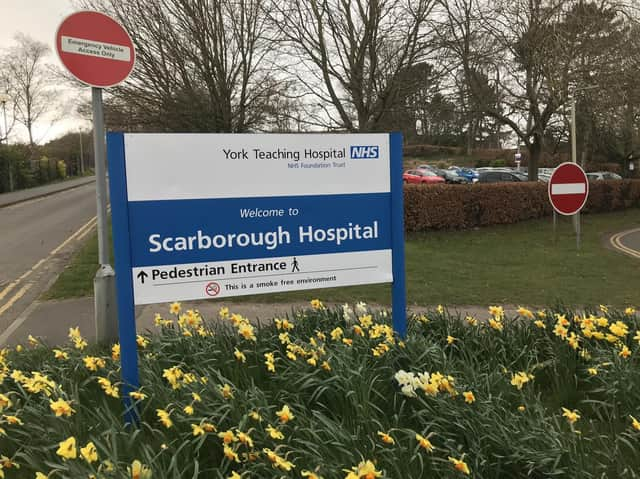 Scarborough Hospital
York Teaching Hospital NHS Foundation Trust will receive £936,000 from a cash pot so that it can upgrade A & E facilities ahead of the winter months and the extra pressure these bring on the health service.
MP for Thirsk and Malton Kevin Hollinrake welcomed the news.
"The extra £936,000 means that York and Scarborough hospitals will be able to increase their A & E capacity, put enhanced infection prevention and control measures in place and make improvements to emergency care and urgent treatment services," he said.
"Staff at York and Scarborough hospitals have worked tirelessly over recent months and I would like to thank them for everything they have done to get our local community through the coronavirus pandemic.
"While we hope for the best this winter, it's right that we plan for the worst.
"This funding to upgrade A and E across the Trust will ensure that we are in the best possible position for the challenges that the winter months may bring."
Announcing the funding, Prime Minister Boris Johnson urged the public to feel confident to visit A and E for the treatment they need.
He said he wanted to reassure those who remain concerned of the strict social distancing and hygiene measures that are in place to protect patients. 
He said hospitals could use the new funding to expand waiting areas and increase the number of treatment cubicles, helping them boost A and E capacity by providing additional space, reducing overcrowding and improving infection control measures.
They could also increase the provision of same-day emergency care and improve patient flow in the hospital to help the NHS respond to winter pressures and the risk from further outbreaks of coronavirus.
Projects will be completed by the start of next year so hospitals benefit from the upgrades during the peak of winter.
"These upgrades will help our fantastic NHS prepare for the winter months, helping them to deliver world-leading services and reduce the risk of coronavirus infections," he said.
"Thanks to the hard work and tireless efforts of NHS staff throughout the pandemic, our A and Es have remained open for the public.
"It's vital that those who need emergency treatment this winter access it, and for those who remain concerned about visiting hospitals, let me assure you that the NHS has measures in place to keep people safe."