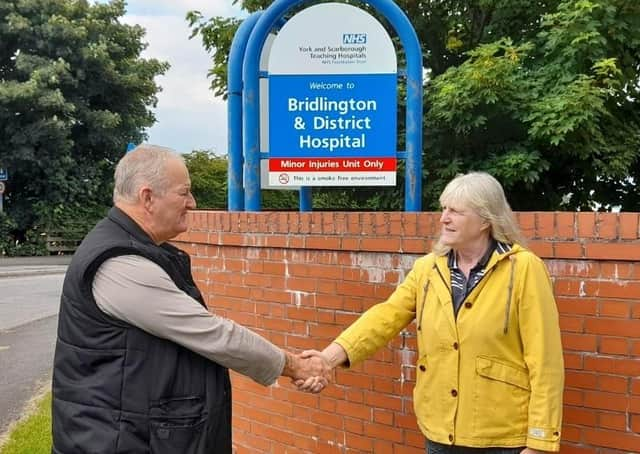 Mick Pilling and Jayne Phoenix shake hands at the hand-over of the 'Save Bridlington Hospital' campaign.
Mr Pilling had signalled some time ago that due to ill-health he needed to hand over the campaign.
Jayne has got off to a speedy start, launching a Petition to Save Bridlington Hospital in a bid to bring back the lost services.
The petition is available via the www.eastridinglibdems.com/brid_hospital link with more information available at the Bridlington Focus Facebook page.
Mr Pilling received the Bridlington Unsung Hero accolade in The Pride of Bridlington 2008 Awards in recognition of his services to the town.
He said: "I am happy to hand over the campaign to Jayne. The Liberal Democrats have raised concerns and campaigned against the run-down of our hospital for years."
Jayne said: "We all owe Mick a huge debt for his efforts over many years to fight for a decent hospital service in Bridlington.
"I am pleased to carry on the fight on in his footsteps. I can't guarantee we will win but I will try my best.
"With the support of Councillor Mike Heslop-Mullens, we will continue to fight for services that the people of Bridlington actually need.
"Residents want a proper hospital on their door step. A recent independent survey received more than 1,000 replies saying 'keep the hospital and bring more services back'.
"Bridlington Hospital deserves investment."