Online video appointments for North Yorkshire mental health patients - see how you can benefit
People from around Whitby and Scarborough can access mental health support from their armchair thanks to technology supporting NHS staff to hold appointments online.
Wednesday, 6th May 2020, 10:25 am
Updated
Wednesday, 6th May 2020, 10:38 am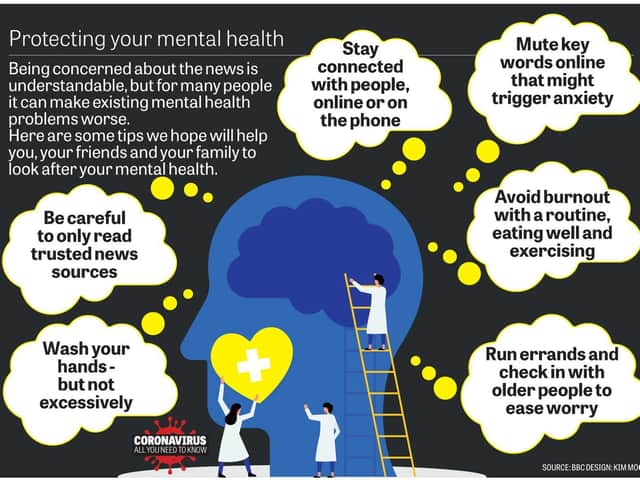 Look after your mental health.
Earlier this year Tees, Esk and Wear Valleys NHS Foundation Trust, which provides mental health and learning disabilities services across County Durham and Darlington, Teesside and most of North Yorkshire, signed up to an NHS pilot trialling the use of video consultation software, Attend Anywhere.
In response to the COVID-19 pandemic, this has now been made available to staff across the trust.
More than 5,000 video consultations have been held since April 1.
Attend Anywhere offers secure video consultations for those living in the community, helping to reduce unnecessary travel and making it easier for people to stay at home. It is also supporting the trust to keep in regular contact with patients and is having a positive impact on the number of individuals clinicians are able to speak to.
Appointments are arranged in the usual way with patients receiving a link to their online consultation via email or text. No special accounts, software or dial-ins are needed, only an internet enabled device such as a smart phone, tablet or laptop.
Upon clicking the link patients enter their own private online waiting room, where they are met by their clinician for an on-screen appointment. The clinician and patient can see and speak to each other as well as share and discuss documents like test results, letters and case notes.
Family members and carers can all be involved with discussions about a person's care and treatment, as up to four people can take part from different devices.
Appointments are confidential. Conversations are not recorded and will not leave a digital footprint.
Dr Tolulope Olusoga, consultant psychiatrist in older people's services at TEWV and currently using the platform said "Attend anywhere offers a better quality of assessment than telephone conversations.
"A lot of communication is non-verbal and the use of video technology enables clinicians to pick up on signals that may otherwise be missed.
"It also helps us to assess a person's general wellbeing and look out for signs that they may not be taking care of themselves.
"Being able to see each other also helps to build therapeutic relationships which are essential in supporting someone on their recovery journey."
Nichola Watkins, clinical locality engagement manager and leading on the work added "We're pleased to have been able to fast track this work so more people have benefitted from the support of our clinicians during this difficult time. Offering on-line appointments has helped us to stay connected with vulnerable patients in the community, making sure their care is not negatively impacted as a result of measures to reduce the spread of coronavirus."
She added that of 447 patients surveyed, more than 94% said they would be happy to use Attend Anywhere again.
It is hoped to continue and expand the service further in the future.