1984 Flamborough fishing boats tragedy marked with wreath-laying ceremony
A low key, socially distanced, wreath laying ceremony to commemorate the loss of two fishing boats close under the cliffs of Flamborough on May Day Bank Holiday 1984 took place at the memorial on Chapel Street last Friday (May 7).
Monday, 10th May 2021, 9:28 am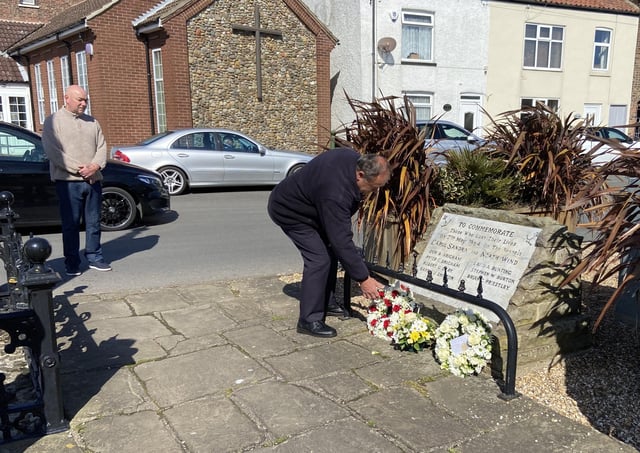 Flamborough Fishermen's Memorial Group's Robin Sunley lays a wreath. Photo Mark Smales.
That fateful date 37 years ago will live long in the memories of people who can vividly remember the tragedy unfold when seven lives were lost in one of the darkest days in the maritime history of the village.
One wreath was laid by Councillor Vic Leppington on behalf of the Flamborough Parish Council and another by Robin Sunley, retired Flamborough lifeboat assistant motor mechanic, on behalf of the Flamborough Fishermen's Memorial Group.
Captain David Freeman, Lifeboat operations manager at the Flamborough station, was in attendance along with Martin Traves (DLA), Ian Smith (LPO) and a small gathering of local people. There was also a floral tribute from the family of Brian Priestley, one of those lost from North Wind III.
Councillor Vic Leppington lays wreath on behalf of Flamborough Parish Council. Photo: Mark Smales.
The original memorial service was held in St Oswald's Church, Flamborough, on Sunday, May 27 1984 to remember the seven men who were lost on the Carole Sandra and North Wind III.
The church was packed and the service relayed to people outside. In the address given by Flamborough Lifeboat Coxswain Bob Major, he paid tribute to everyone involved in the search. Bob told the hushed congregation – 'we did try, but it seemed it just had to be'.
The memorial was erected by the Flamborough Parish Council and was in place by May Day the following year.
Wreaths are placed at the memorial stone. Photo by Mark Smales.