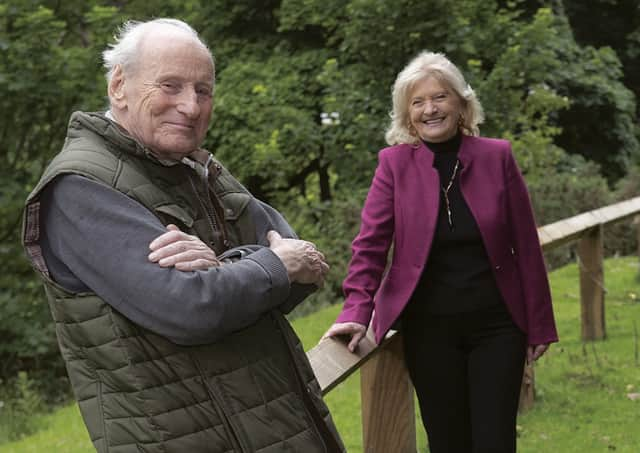 Councillor Val Arnold and Rob Cattle are pictured in Lastingham next to the new railings. Photo Submitted
Rob Cattle, clerk of Lastingham parish, had been trying to get an old concrete and post fence fixed for the past 10 years, but other more urgent jobs took priority.
Mr Cattle, 80, wanted to sort out the eyesore of a fence which was a point of irritation for many residents.
With the help of North Yorkshire County Council highways and County Councillor Val Arnold, he managed it as his final job in his 10-year tenure as clerk.
Rob, 80, who has lived in Lastingham for 37 years, said: "When I first became clerk, I went around looking for the things we needed as a conservation village, and new railings was one of those issues.
"It was a question of me going for grants annually, but often the money needed spending on other things.
"But I've been fighting to get the railings replaced for years. The trouble was, they are quite expensive to do.
"It's been at least 10 years that people have been asking for the rails to be replaced, but it's all been dependant on financial priorities.
"I got in touch with Val Arnold, our county councillor, who decided to help."
The cost to replace the 25 rails and posts would be more than £3,000 – so Cllr Arnold decided to use her Environmental Locality Budget to help get the fencing back into tip-top shape.
A grant from court leet and Manor of Spaunton will pay for the fences to be painted white.
Rob said: "The new fence looks great, it's very smart and I'm very glad it was replaced.
"We couldn't have done it without Cllr Arnold using her locality budget, and it's very much appreciated all the effort she put in."
Cllr Arnold said she was very happy to help.
She said: "Rob had tried for years to make it work and I thought it was the right thing to put the grant towards.
"It's important to support communities like Lastingham and this is proof that small things can have a big impact."