Peasholm Park then and now: Photos show how Scarborough landmark has changed since it was built
Peasholm Park is one of Scarborough's most-loved landmarks and it has been a part of the town for over a century.
Thursday, 25th March 2021, 3:53 pm
Updated
Thursday, 25th March 2021, 3:56 pm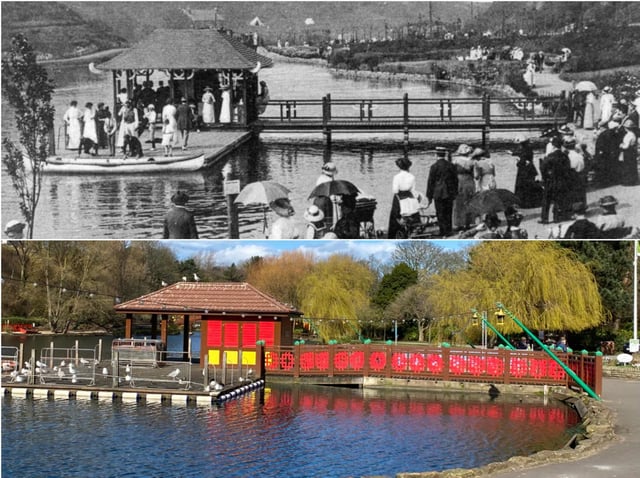 Top: Peasholm boathouse in 1912. Bottom: The boathouse today.
These pictures show what the park looked like when it was first built in the early 20th century compared to what it looks like today. Construction first began on the island and lake in December 1911 and was open to the public on June 19 1912. Phase two of the Park - incorporating the glen into the park, began in 1924. Over the past year Scarborough s residents have appreciated the green space even more as somewhere to walk around during lockdown.
The children' yachting pool being enjoyed by many children and adults, the pagoda can be seen in the distance.
The same lake a little quieter. The pagoda can still just be seen in the distance through the trees.
The opening ceremony of Peasholm Park in June 1912, where dignitaries can be seen at the boathouse in the Lake.
The original boathouse stood for over 100 years until it had to be demolished due to subsidence in the foundations. Today's boathouse was built in a similar style.
The entrance to Peasholm Park on the corner of Columbus Ravine. The Clifton Hotel can be seen in the far left corner of the picture.
Many of the same buildings remain today, including the Clifton Hotel.
One of the entrances to Peahsolm Park with the boathouse on the lake in the distance.
The archway no longer remains, and the putting green can now be seen next to the boathouse.
A view of Peasholm island and lake looking towards North Marine Road, with the Clifton Hotel in the distance.
The island still attracts visitors in summer when it was open, though trees have now grown to obscure some of the views in the distance.
This view over the lake shows how undeveloped the area was in the early 20th century.
A view over the lake taken from a similar viewpoint today is very different as many mature trees have now established themselves in the park.
Another view of the yachting pools, busy with people.
The same pools today look very different with plenty more trees surrounding them.
Taken shortly after the park had open, the photo shows a view of the bridge over to the island, with Peasholm Gap to the far right.
The Half-moon Bridge connecting the Island to the mainland has now been replaced after the pagoda fire in 1999. The park is now also filled with plenty of beautiful trees.