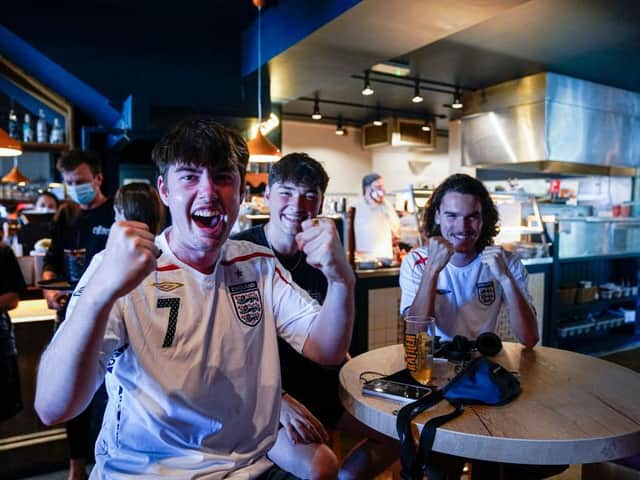 (Photo: Getty/Hugh Hastings)
Tony Snow, licensee at The Courtyard on Vernon Road, said: "We weren't doing too bad before but the Euros has had an effect, people like to be crowded in.
"During the 2018 World Cup we were at capacity inside and outside but you can't do that now.
"Even though it's on, you're not making what you would do normally with it.
Pub Landlords Danny Smith, left, and Tony Snow.
"We're more or less trading at capacity because of limitations, so our outside is generally full, it was just full with people watching football!"
England's Euro 2020 campaign got off to a winning start as Raheem Sterling's goal secured victory over Croatia at Wembley on Sunday.
Mr Snow said that there are a lot of tourists in the town and they are getting a lot of them coming in for a drink and that the football is effectively matching what is normally a busy time of the year.
Danny Smith the landlord at Scholars Bar on Somerset Terrace and chair of Scarborough Pub Watch, said he has noticed people are staying longer and spending more.
"The atmosphere was very, very good on Sunday, we had a bit of music on, people were coming in early. I opened a little bit earlier on Sunday because I didn't want people queuing up outside and then you're chasing yourself for the next hour running around serving people so I opened earlier to get people in gradually rather than a big lump."
England face Scotland at Wembley on Friday evening in a huge rivalry game and what is expected to be a busy time for pubs.
Mr Smith said: "I'm expecting it to be busy, I open at four o'clock during the week, so I've got all my staff in from four and a doorman on from six. I'm expecting it to be full three hours in advance of kick-off!"
England's final group game against Czech Republic on June 22 could have seen all restrictions lifted and the return of packed pubs, but the announcement of an extension to lockdown rules from Boris Johnson on Monday evening means that table service and capacity limits will remain in place for at least four more weeks.
Not every pub has seen a boost with the return of football.
James Durham, co-owner of J&S Pub Company (Scalby) Ltd which run six pubs in Scarborough and Whitby said: "It's not been too busy, to be honest, I think because the weather was good and because people aren't guaranteed to get in I think a lot of people stayed at home.
"Friday is an unknown quantity, it depends on the weather. If it's bad you'll see more people in the pubs. It's a big, big game, but you can only take your pub to capacity.