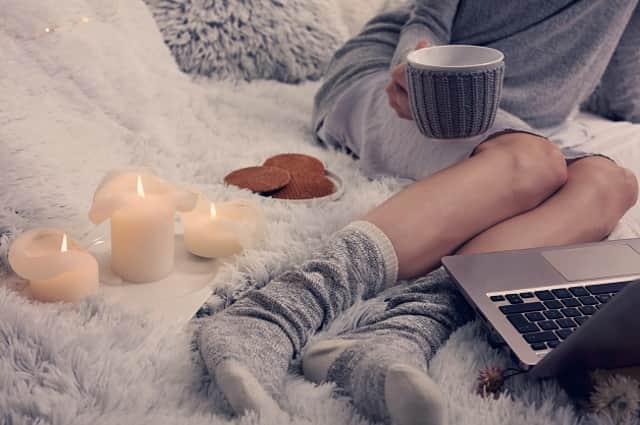 Bad weather in winter can cause havoc in our day-to-day lives, but keeping warm can come at a cost on a more personal level. Using central heating can be the most damaging part of the season for our skin.
With freezing temperatures outside and the central heating turned up to the max, we can expect many cases of chapped lips and dry hands this season. At worst, skin can become blotchy, painful and tight as the wintry weather is harsh on all types of skin - not only those with very sensitive complexions.
One of the biggest irritants in winter is the dry air caused by central heating which robs the skin of all its vital moisture. Research has found that the average thermostat in households across the UK are turned up to a tropical 23 degrees or higher,* which could be the reason your skin feels dry and looking sallow over the winter months.
So, it seems that while we're enjoying our cosy nights in with the harsh elements raging outside, many of us are unaware of the threat this poses to our skin. To help you and your skin this winter, Surcare has teamed up with Dr Adam Friedmann, consultant dermatologist at The Harley Street Dermatology Clinic, to put together some tips on how to help your skin stay glowing in the winter chill.
Sleep with the heating off at night
Try to use a timer so that your heating comes on for a couple of hours in the evening and switches off again until morning. This will not only help you to save energy and money, but it will also stop your skin dehydrating as much. If you really do need the heating on at night, try turning the thermostat down, and aim for a temperature of around 20 degrees that should keep you warm without causing damage to your skin.
Avoid hot water and marathon showers
After a day out in the cold, there's nothing more relaxing than a hot bath. It might feel great on your skin, but try to refrain from jumping into steaming water, instead opt for a cooler temperature that should help your skin retain as much moisture as possible. Heating skin too quickly can cause cracking and painful blotches leaving your skin open to further irritation.
Adapt and extend your regime
Dry air in winter can be problematic for people with sensitive skin, making it more likely that an eczema flare up is just around the corner. If your skin does begin to feel dry and sensitive, using laundry products that contain harsh ingredients can make this worse for eczema prone skin. Surcare's range of non-biological laundry and washing up products are specifically designed to be kinder to sensitive skin, as they're free from unnecessary ingredients such as enzymes, dyes, acids or perfumes which could irritate eczema prone skin. So if there's one small change to make this winter it's to reconsider how your laundry routine can make a big difference to your skin.
Using the right products on your skin in winter can help create a protective barrier against dry air. Hydrating masks and facial oils are a great way to keep your face looking and feeling fresh. Pay extra attention to your lips in winter as they're more susceptible to dehydration as they don't have oil glands, and where possible try to avoid licking your lips as the digestive enzymes in saliva can do more damage than good. Instead, gently buff the lips with a towel and add plenty of lip balm before going out in the cold.
Top tip: It might seem obvious, but aim to drink plenty of water, in particular if you're feeling chilly, opt for chamomile tea or hot water with honey and lemon. This will not only keep you toasty, but chamomile tea is also great for getting rid of dark circles and lightening skin.
Believe in the beauty bowl
Not heard of this before? Well don't worry, the beauty bowl is essentially a decorative bowl filled with water that evaporates into the air when the heating is on. This acts as a cheaper alternative to a humidifier, adding more moisture to the air and preventing your skin from dehydrating as severely. It should take around a week for the water to slowly and fully evaporate from a medium sized bowl, so why not try adding a dash of scented oil to gradually release a relaxing aroma around your home.
Surcare is available in all major retailers, for more information visit www.surcare.co.uk.