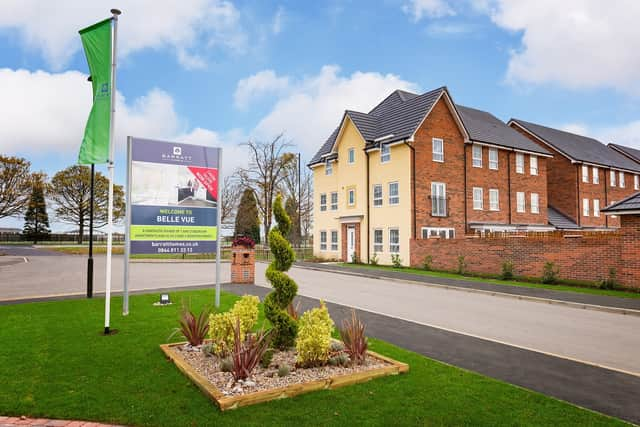 It's New Homes' Week, and housebuilders are keen to highlight the plus points of choosing a brand new home.
Perks identified include cost-savings on energy use, homes built with modern day lifestyles in mind, and neighbours keen to build a community.
Housebuilder Barratt celebrates its 60th anniversary during New Homes Week this month, and lists some of the benefits of buying new as follows;
Unlike older homes, new builds are created with today and the future in mind. Offering a wealth of modern functions, such as energy efficiency and significantly less maintenance thanks to new fixtures and quality finishes, moving into a new build means that you won't need to spend extra money or time updating a property; a huge task that can cost homeowners up to an astonishing £45,000.
Choosing a new build gives buyers the opportunity to create a home exactly the way they want it, by selecting their preferred flooring, appliances, fixtures, fittings and more. Therefore, purchasing a new home will not only save a significant amount of money in the long-run, but will also allow buyers to create a home that meets their needs and preferences.
Buying a new home isn't just about the house itself, but also the surrounding people and place. While moving to a new area can seem daunting, purchasing a new build property means that movers are able to really benefit from that all-important community aspect, as everybody is in the same position.
Most people will be looking to be a part of their new community and will be on the lookout for a friendly face in their new surroundings; this shared situation can help everyone to feel at home in their new properties and quickly create friendships and welcoming communities.
Save money by saving on energy
Following a report published by the Home Builders Federation, it has been revealed that opting for a new build property could save homeowners a considerable amount of money in the long term. The modern material and building techniques used by Barratt Homes means new homes can be up to 45% - 55% more energy efficient, significantly reducing bills and running costs.
According to Energy Performance Certificate data, more than eight out of 10 new builds have the top A or B rating for energy efficiency compared to just 2.2% of existing properties. This means that new build homeowners will spend on average £443.30 a year (£276 heating / £108 hot water / £60 lighting), well under half of the £1,072 the owner of a less energy efficient home can expect to spend – saving, on average, £52 a month, or £629 a year. That's approximately the equivalent to a takeaway morning coffee every working day of the year, or a season ticket to a premiership football club!
Peace of mind, guaranteed
Purchasers who reserve a new build can also take advantage of a variety of schemes available, including Help-to-Buy and Part Exchange as well as a ten year guarantee, giving peace of mind and a helping hand when securing a new home.