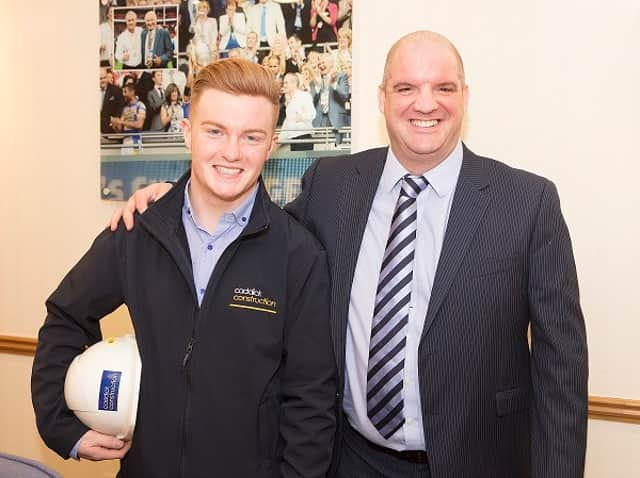 A Yorkshire-based company is working to nurture local talent and help address the skills shortage in construction.
With a workforce of 111 employees, Caddick Construction is a 40-year old family run business, that currently has 12 trainees working from its HQ in Knottingley, in quantity surveying, project management, buying and design and build co-ordination. Four trainees work on sites across the North of England.
Ian Plowman, operations director at Caddick Construction, said: "We have a responsibility to plan ahead and think about the future of the construction industry. We know and understand that there is a challenge in terms of a skills shortage, so I'm proud of the fact that Caddick Construction is committing time and resources to fill the gap in the industry."
With a range of in-house resources, the business also works in conjunction with Higher and Further Education institutions such as Leeds College of Building and Leeds Beckett University to train up the next generation of the construction industry.
Leeds College of Building Principal Ian Billyard said: "We take great pride in the role we play in shaping the future of the region's construction industry and we are extremely proud of our long standing relationship with Caddick Construction."
Twenty-two year old Joseph Flannery, a former student at Leeds College of Building, joined Caddick Construction three years ago as an assistant quantity surveyor. His role is full time but he spends a number of days at Leeds Beckett University each term.
Joseph is from a family of builders and was given a taste of the industry when he was 15, on site with his father. He was keen to take a professional route, so decided to train as a quantity surveyor. His projects so far include Kilner Way in Sheffield and Liverpool Edge Lane retail park.
"Given that most of my family is in construction, it felt like the most natural thing in the world," said Joseph. "I spent some time looking into the various roles and was most drawn to becoming a Quantity Surveyor because of the opportunity of working both on and off site.
"Working at Caddick has given me a great step in the right direction. I've learnt so much while building my confidence in being able to work independently. I may be at assistant level but I'm treated as one of the team and have key responsibilities, so I'm very accountable."
With high profile projects such as Vangarde Shopping Park, Headingley Stadium and Crosspoint33 under its belt, Caddick Construction says it takes recruiting, training and developing people seriously.
Figures from The Construction Industry Training Board reveal that the industry needs to attract 35,740 new recruits each year until 2021, with particularly high demand for professional roles and wood occupations. The growth across the UK will be driven by infrastructure as a number of key projects commence, including HS2, followed by private housing.
Leeds College of Building offers more than 200 courses across a huge range of disciplines. The College is an approved Apprenticeship Levy provider and offers a wide range of Apprenticeships in traditional trades and technical Apprenticeship routes, together with two Higher Level Apprenticeships in Construction Management (Sustainability) covering four Pathways (Building Surveying, Quantity Surveying, Civil Engineering and Structural Engineering) and Facilities Management which offer university equivalent work based education.