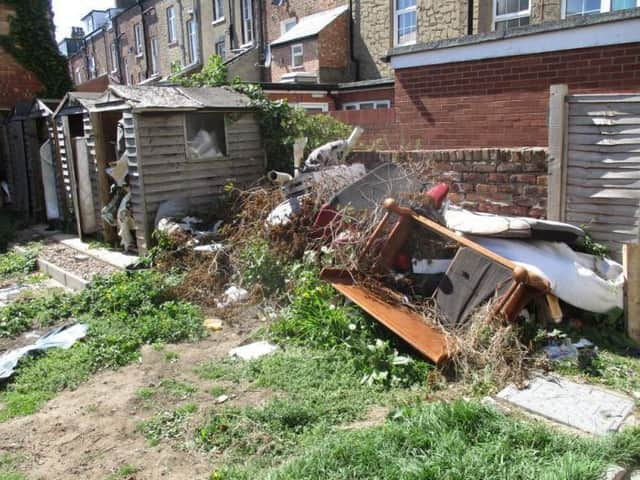 A landlord has been fined 35,000 for failing to maintain his two properties.
At the hearing in Scarborough Magistrates Court on November 26, Mr Raja, director of ASR Estates (UK) Limited, pleaded guilty to the following five charges:
• Failing to notify the Selective Licensing Team of new tenancies being granted at the property together with confirmation that all appropriate checks had been undertaken.
• Failing to maintain the fire detection system - a fault identified on 3 May 2019 was not attended to until 24 May 2019.
Evidence of the licensing breaches.
• Failing to maintain the property and gardens in a clean and tidy condition - accumulations of waste were found at the property on numerous occasions.
• Failing to maintain the property - spindles were missing from an external stairway at one of his properties, leaving an opening through which a child could fall more than three metres to the ground.
• Failing to maintain the property - there were loose, dangerous treads to an external staircase at one of his properties.
The case had been adjourned when it was first heard in September. Whilst the offences all took place earlier this year, a further inspection was carried out in October and some of
Rubbish was found in the garden.
the offences were still evident. There were still piles of rubbish in the gardens, the rear steps still had loose treads and no notifications of tenancies had been received despite at least five new tenancies being granted.
Evidence, including photographs, of the breaches was presented in court and considered by the magistrates. In addition to the £35,000 fine, ASR Estates (UK) Limited was also ordered to pay costs of £1,980 to the council.
Andrew Rowe, Scarborough Borough Council Housing Manager said: "We introduced the Selective Licensing Scheme specifically to help improve the quality and safety of privately rented accommodation in parts of Scarborough. We are committed to protecting the interests of tenants and the local community and we will not hesitate to prosecute any landlord that chooses to disregard the terms of the licence."