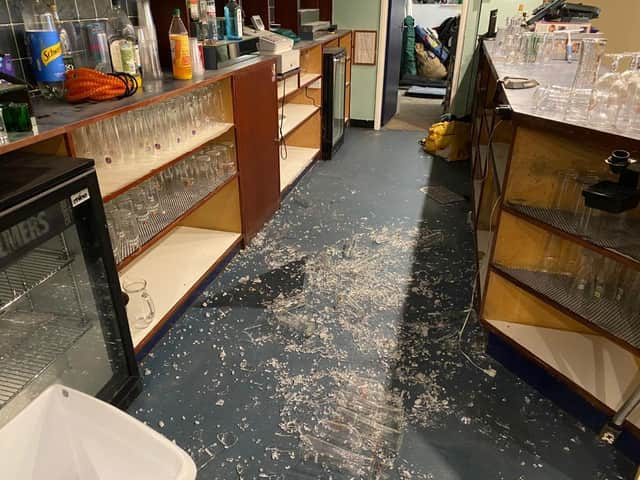 Vandals smash glass inside clubhouse.
The culprits used a beer keg to break a reinforced window and get inside Filey Playing Fields Association's clubhouse on Thursday night.
Broken glasses were found strewn across the clubhouse floor, as well as empty gin bottles.
"There's no sense to it," said the association's secretary Trevor Copeland.
Broken glass and gin bottles left on the floor of the clubhouse.
He estimates the damage will cost the association hundreds of pounds to repair.
"At this point, when we have no income whatsoever, we're relying on grants and membership," he said.
The clubhouse, on Clarence Drive, is used by Filey Cricket Club, Filey Town Football Club and Filey Holt Football Club.
It is run by Filey Playing Fields Association and, with the support of Filey Town Council and the hard work of volunteers, has been undergoing refurbishment.
Filey Cricket Club and Filey Holt Football Club posted the same message on social media, saying: "It is with regret Filey Playing Fields Association would like to inform you our clubhouse was broken into on Thursday evening .
"Our club and fields are community-run, not for profit and are there for the benefit of our community and to help develop the next generation of sportsmen and women.
"This obvious act of vandalism saddens our committee who have donated hours of their own time to provide a centre to benefit everyone in the area.
"Extra security measures have now been installed to hopefully prevent further instances."
Anyone who has information about the break-in or saw anyone in the area acting suspiciously is urged to call police on 101, quoting reference number NYP-15012021-0259.
Information can also be passed on anonymously via Crimestoppers on 0800 555111.