Scarborough woman Mia Robinson stabbed her boyfriend, bit policewoman on the thigh and crushed another officer's hand
A Scarborough woman has been jailed for more than four years for stabbing her boyfriend then lashing out at police.
Monday, 18th November 2019, 6:24 pm
Updated
Monday, 18th November 2019, 6:25 pm
Mia Robinson, 20, plunged a kitchen knife into her boyfriend's inner thigh during an argument about their relationship, York Crown Court heard.
The victim, who was stabbed while they were grappling on the floor, suffered a one-inch wound to his groin following the terrifying attack at a block of flats in Albemarle Back Road, Scarborough.
A group of people witnessed the incident inside the communal hallway, where a female took the knife off Robinson, said prosecutor Stephanie Hancock.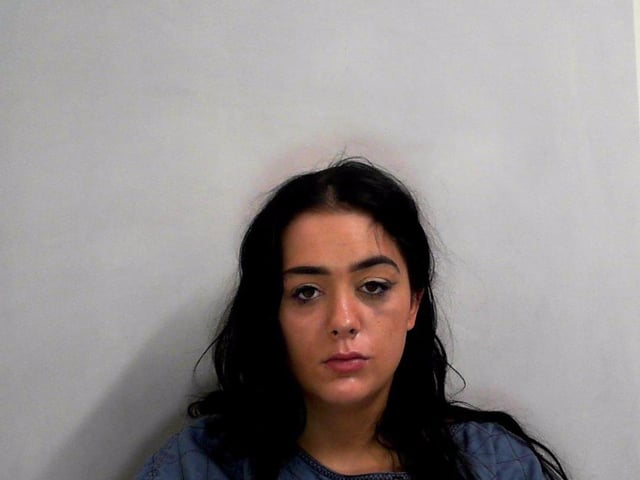 Mia Robinson
Police were called to the scene but when they tried to arrest Robinson, the former hairdresser lashed out and was said to be "hissing" as she did so.
One female officer was bitten on the thigh and another ended up in hospital after her hand was "crushed" against the metal neck of the car seat after Robinson began violently throwing her head back after finally being bundled into the police van.
Robinson, who lived at the block of flats, was arrested and charged with wounding with intent and three counts of assaulting a police officer. She was remanded in custody and appeared for sentence after pleading guilty to all charges.
Ms Hancock said that Robinson and her boyfriend, who was named in court, had been in a "an extremely volatile and violent" two-year relationship, which was coming to an end by the time of the stabbing in the early hours of July 31.
In the run-up to the stabbing, just after 3am, the warring couple and a group of their friends had been drinking in the communal area.
CCTV footage showed the victim trying to usher Robinson back into her flat where she grabbed a knife from the kitchen and came at him as he backed off into the communal hallway.
First she "thrust" the knife at his torso and missed. He was then stabbed in the groin, at which point two of their friends came back into the hallway and one of them took the knife off Robinson.
By the time police arrived, the scene was "extremely chaotic".
The victim was taken to hospital while two officers went looking for Robinson inside her ground-floor flat. However, when they knocked on her door, she climbed onto a window ledge, shouting: "If I stabbed him I'd make sure I did it properly."
She began shouting and swearing at officers as she "threw her head violently back and forth, making hissing noises", said Ms Hancock.
Robinson had to be put in leg restraints as officers tried to get her in the police van. She then bit one of the female constables on the thigh while screaming at officers: "I hope you all die of cancer."
"Once inside the police van, she threw her head back with such force that she trapped another (female officer's) hand between the back of her head and the neck of the seat," said Ms Hancock.
An ambulance took the officer to hospital where she was treated for a bruised and swollen hand.
Robinson - who had downed half a bottle of vodka, 10 cans and half a bottle of wine - was taken to a local police station but such was her aggression that she had to be carried to a cell.
"The custody sergeant (deemed her such a risk) that she was placed in safety clothing," added Ms Hancock.
As four officers tried to get her into the safety clothes, Robinson kicked one of them in the face and scratched her arms.
The stab victim was discharged from hospital after having his wound stitched. The wound was 1cm deep.
Robinson was later "extremely upset and remorseful" when questioned by police after sobering up.
"She said she had completely lost her head," added Ms Hancock.
Robinson - who only had a "blurred" recollection of the incident - had a record for violence and drink-related public disorder including an assault on a bouncer in Scarborough town centre in 2018.
In February this year, she was given a community order following another drink-related incident in the town centre where she repeatedly punched her boyfriend in the head and pushed him to the ground.
Defence barrister Victoria Smithswain said there was a "degree of provocation" from the stab victim and added that Robinson had endured a traumatic childhood and tragic early adulthood.
She said Robinson had a mental disorder and an alcohol problem which had led to her offending. She had been prescribed medication for anxiety and depression.
She added that Robinson had suffered violence at the hands of her partner down the years and had been protected by domestic-violence orders.
Judge Simon Hickey slammed Robinson for attacking police officers and said that notwithstanding her boyfriend's behavior towards her, she had used a potentially-lethal weapon after "taking a phenomenal amount of drink".
Robinson was jailed for four years and two months, of which she will serve half behind bars before being released on prison licence.