She let it happen: Scarborough mum jailed after 'monstrous' attacks on her baby by ex-boyfriend
A mother and her "sadistic" partner have been jailed after a baby boy from Scarborough suffered life-threatening injuries during a series of "monstrous" attacks in which he was beaten, smothered and "terrorised".
Monday, 10th May 2021, 1:30 pm
The boy, who was barely two years old, was brutalised so violently that the sentencing judge said the youngster could easily have been murdered.
The Scarborough News is not naming the woman or the man, to protect the child's identity.
All the injuries were inflicted by the mother's partner, who had a track record for violence before starting a relationship with her at around the time the abuse began, York Crown Court heard.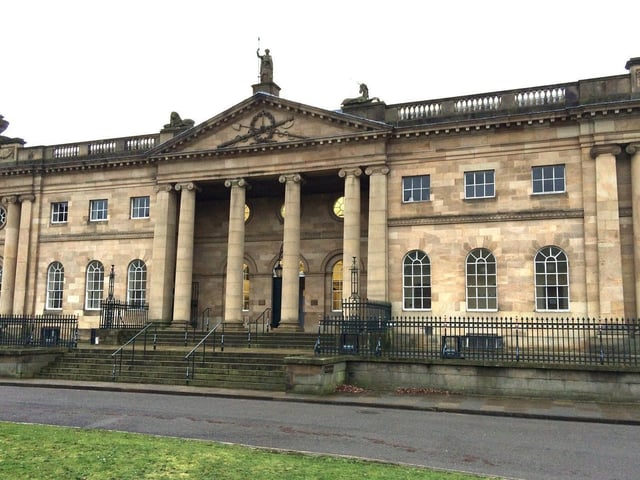 York Crown Court
But the child's mother had allowed the abuse to happen by leaving her son alone with her callous partner, even though he had already threatened to smother the youngster and throw him against a wall, said prosecutor Andrew Finlay.
The mother, from Scarborough, had "deliberately concealed" the abuse and ignored her baby's suffering because she was in love with her violent partner and put her affection for him before her son.
She even lied to the baby's natural father and hospital staff about how the boy came about his injuries, added Mr Finlay.
He said the boy had suffered a catalogue of injuries at his mother's home in Scarborough where her boyfriend subjected him to horrific abuse.
The abuse occurred between April and August 2017, but delays in the prosecution case meant the case didn't reach the courts until October last year.
The mother and her former partner appeared for sentence on Friday after each pleaded guilty to child cruelty. The mother's now ex-partner also admitted assaulting the child causing actual bodily harm.
Mr Finlay described the physical abuse meted out to the child as "multiple incidents with very significant force used".
He told the court: "The case against (the boy's mother) was that she failed to protect her son against what was going on and sought to cover up the situation.
"She was aware of prolonged and multiple incidents and (this was) deliberate disregard for the child's welfare, putting herself first and failing to protect him."
The mother's former partner had a record for violence including three previous convictions for assault occasioning actual bodily harm and affray.
In a highly emotional statement, the boy's natural father told of his horror at learning of the "horrendous" abuse suffered by his son and said he had been deceived by the boy's mother.
David Camidge, for the mother's former partner who caused the injuries, said his client - who had seven previous convictions - had served a previous prison sentence for violence but was otherwise a hard-working man.
Nick Peacock, for the child's mother, said she had not witnessed any of the incidents in which the injuries were caused to the boy.
"She accepts that she neglected the child and had left him in a position where (her partner) could cause these injuries," he added.
"It's a very sad case. She is entirely horrified, embarrassed and ashamed about the way she has neglected her own son. She was not the cause of the injuries but she accepts she allowed the injuries to happen.
"At the time, she had fallen for (her partner) and put her relationship (with him) in a higher bracket than she should have done. The consequences for her have been really catastrophic."
She had lost custody of her child but was now trying to turn her life around with counselling and had a glowing reference from her new employer.
Despite losing custody, she had had regular contact with her son since August last year.
Judge Sean Morris told the mother's former partner that he had "repeatedly and, in my view, sadistically…beat and physically abused this baby boy".
"You inflicted life-threatening injuries on him and (the attacks) included smothering him, grabbing his (genitals) so you bruised him, pinching, terrorising him and, on one occasion, you left the bedroom blood-spattered," added Mr Morris.
"You are very fortunate you have not been put up in front of a court for murder (or) manslaughter at the very least."
Jailing him for three-and-a-half years, the judge said this was a reduced sentence due to the "unacceptable" delay in the case reaching court, his guilty pleas and the current conditions in prison due to the Covid pandemic.
Jailing the mother for 19 months, he told her: "You brought (your child) into this world and you were very nearly responsible for taking him out of it.
"You put your own selfish interests and lifestyle first and foremost, ahead of the child who you should have been protecting.
"You knew what was going on and you stayed with this man and left your child alone with him despite the fact that he had threatened to smother him and cause injuries and that he told you he had to leave the room one day before he threw him against a wall.
"You told deliberate lies to (the boy's) father and to the hospital. I have considered whether (the jail sentence) could be suspended, but this (offence) was so monstrous that a suspended sentence would be an affront (to justice)."
Both defendants will serve half of their sentences behind bars before being released on prison licence.