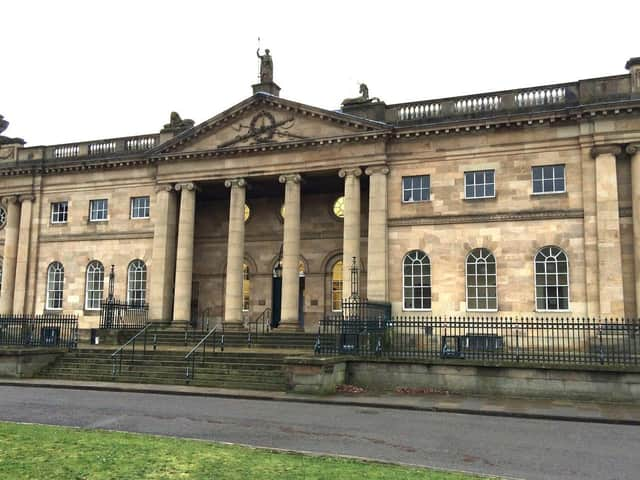 York Crown Court
Samantha Jane Barr, 47, attacked the victim after flying into a drunken rage at his flat in Norton, near Malton.
The victim was "slashed" in the stomach and chest during the vodka-fuelled attack, York Crown Court heard.
Prosecutor Rob Galley said the incident occurred at about 8.30pm on March 8 after Barr refused to leave the flat when asked to do so by her then boyfriend, who was recording the incident on his phone.
Barr punched and slapped the victim in the hallway, then stormed into the kitchen where she picked up a knife block and threw it across the room.
The knives landed on the kitchen floor.
Barr picked up one of the knives and started "lashing out" at the victim.
"She was lashing out at his chest and belly area with one of those knives," said Mr Galley.
Police were called to the property in Fletton Road where Barr was still shouting and swearing at the victim, who was "guarding the knives and the knife block".
Officers arrived at about 9pm and found knives strewn across the kitchen floor.
The victim told them he had been "slashed" but suffered only two minor cuts to his chest and stomach.
Barr was arrested and brought in for questioning a week later.
She told officers she could barely remember the incident because she was drunk.
She was said to be "very upset" when police showed her video footage of the incident.
Barr - from Barlby, near Selby - was charged with assault occasioning actual bodily harm.
She admitted the offence, as well as breaching her bail conditions by returning to the victim's flat on June 1.
She appeared for sentence on Tuesday knowing her liberty was at stake.
Barr had been staying at her then boyfriend's home on a temporary basis before the knife attack in March.
They had been in a tumultuous six-year relationship which, according to the victim, had been blighted by his ex-girlfriend's excessive drinking.
Judge Simon Hickey spared Barr's solicitor the need to mitigate on her behalf after deciding that the troubled woman didn't pose a danger to the public.
He said that "fortunately" the cuts to the victim's body were "not deep or serious" and the victim did not need treatment.
He told Barr: "Your drunken behaviour shows you are inadequate, not dangerous, therefore I can suspend (the) sentence."
The judge said he had also noted Barr's "difficult" past which had led to mental-health problems.
Imposing a 12-month suspended prison sentence, Mr Hickey said Barr was "clearly remorseful and ashamed".
Barr was also ordered to complete a 30-day rehabilitation programme.