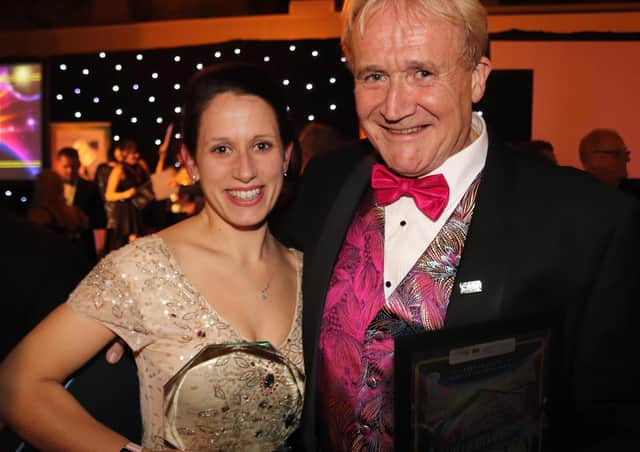 Chef Laura Fielding and managing director Mike Padgham at the ceremony.
The company's managing director Mike Padgham won the Outstanding Contribution to Care Award at the Great Yorkshire and Humberside Care Awards in York.
And Laura Fielding, chef at the company's Saint Cecilia's Nursing Home, was named top chef/cook during the event.
Mr Padgham said: "We are absolutely delighted to have won two awards at what was a fantastic evening in York.
Saint Cecilia's Care Group team members at the event held in York.
"I was honoured and humbled to be awarded the Outstanding Contribution award.
"I dedicate it to all those I work with at the Independent Care Group and, previously, at the United Kingdom Homecare Association, and to all the team at Saint Cecilia's as together we all fight for a better deal for social care.
"I am extremely pleased for Laura as she is a fantastic, creative and inspirational cook, whose talents go way beyond providing delicious and nutritious food for our residents.
"I'm also very proud of all members of the team who were shortlisted or nominated for awards on Friday, and indeed all the staff at Saint Cecilia's – they are all winners in my eyes!"
Saint Cecilia's was shortlisted in 10 categories for the awards, presented at York Railway Museum on Friday evening. The company was shortlisted as Care Employer Award and other members of staff were nominated for individual awards.
The other shortlisted staff were: Saint Cecilia's Nursing Home: Isabel Santos (The Good Nurse Award); Tanya Wormald (Frontline Leaders Award); Donna Henderson (Care Home Registered Manager Award).
Saint Cecilia's Care Home: Lorricia Miller (Dementia Carer Award); Rose Boughton (Palliative Care End of Life Award); Karen Howden (Ancillary Worker Award).
Normanby House: Trudi Hewitt (Care Home Activity Organiser); Louise Woolgrove (The Care Home Worker Award).