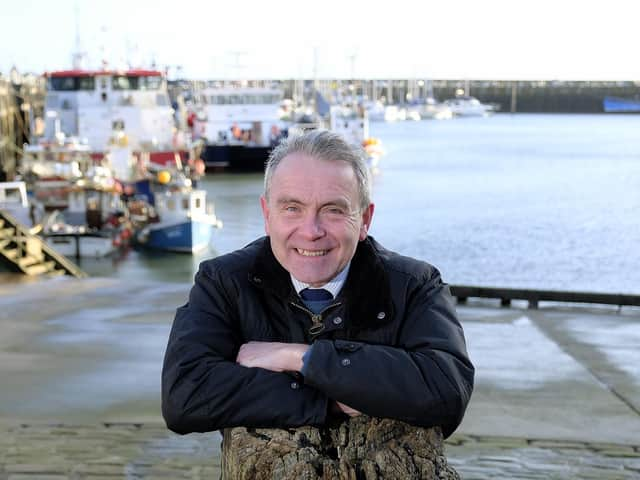 Robert Goodwill MP
During a debate of the Fisheries Bill, MP for Scarborough and Whitby Robert Goodwill asked for the issue to be addressed.
"It is an internal issue, but every year we get nomadic scallopers off the coast of Yorkshire destroying our crab and lobster beds, smashing up the fish and, more important, often towing away whole fleets of pots, which cost thousands of pounds," he said.
We have reported previously how local fishermen say they have lost tens of thousands of pounds due to large visiting scallop boats towing away lobster pots.
Many were worried if nothing was done, the problem would put them out of business.
The large scallopers, primarily from Scotland and the South of England, use dredges to trawl the seabed along the coast but some are towing away the local fishing boats' lobster pots at the same time.
Aside from the financial impact on the fishermen, lost pots also have a negative effect on the environment as marine life continues to enter them but is unable to get out - known as "ghost fishing".
Pots can stay ghost fishing on the seabed for ten years or more.
Speaking after the debate, Mr Goodwill said: "I hope we will be able to police scallopers a bit more because it is so important to the Scarborough, Whitby and Bridlington-based crab and lobster fishermen."
The parliamentary discussion also saw Mr Goodwill highlight the importance of post-Brexit trade negotiations for Scarborough and Whitby's fishing industry.
"The waters around the UK are some of the richest fishing grounds in the world," he said.
"We need to secure a trade deal, so that lobsters caught off Scarborough and Whitby can be exported free of tariffs or impediments to France, Spain and so on.
"The Bill is an important element of taking back control. I hope it reaches the statute book quickly, unsullied by any Lords amendments."