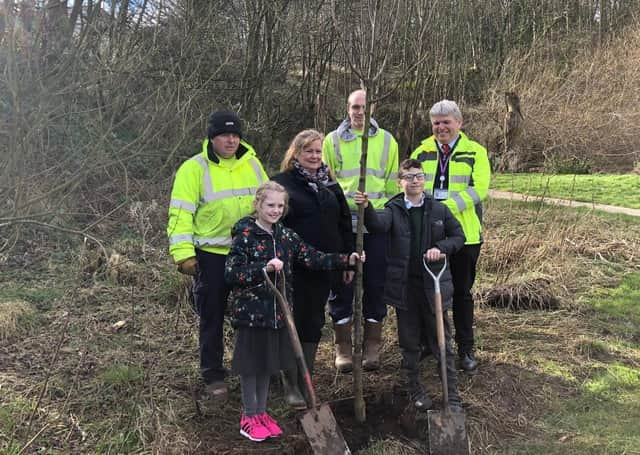 Springhead School pupils Bethany McHale (9) and Oliver Wilson (11) plant a tree with Cllr Liz Colling and members of Scarborough Council's Parks team.
The youngsters from Springhead School, an all-age specialist school for cognition and learning, were visiting Quarry Mount Park, which the pupils use regularly for outdoor and sensory learning.
A year on from Scarborough Council declaring a climate change emergency that renewed the authority's focus on the environment, the park has undergone repairs to its boardwalk and had a number of flowers planted.
Situated at the end of Asquith Avenue off Seamer Road, Quarry Mount Park is one of the borough's hidden gems, a marshy wetland home to scores of breeding frogs and a natural watercourse.
Opened in 2006, it provides a space for residents to enjoy and also an outdoor classroom for the Springhead students to visit regularly.
The school admits pupils with a wide range of special educational needs and disabilities but they had been unable to make full use of the park on their doorstep due to the walkway over the marsh becoming damaged and unsafe.
Scarborough Council cabinet member and local ward member, Cllr Liz Colling (Lab), helped to get the repairs undertaken and was there to see the pupils plant two trees in the next stage of the park project.
Cllr Colling said that getting the community, in particular, local residents, involved in their open spaces was vital.
She added: "This is about having nature in your back garden for the residents locally and for Springhead School so they can come and see the frogs today, the flowers later in the summer and just enjoy the open space.
"We are looking to start a Friends of Quarry Mount, there used to be one apparently so we are hoping to bring it back.
"Parks and gardens have got some fabulous ideas about wildflowers but, actually, it is for people locally to tell us what they want."