Filey lifeboat launched to rescue fishing vessel with one person on board
Filey's volunteer lifeboat crew were called into action this morning (Tuesday January 28) to rescue a fishing vessel.
Tuesday, 28th January 2020, 4:33 pm
Updated
Tuesday, 28th January 2020, 4:34 pm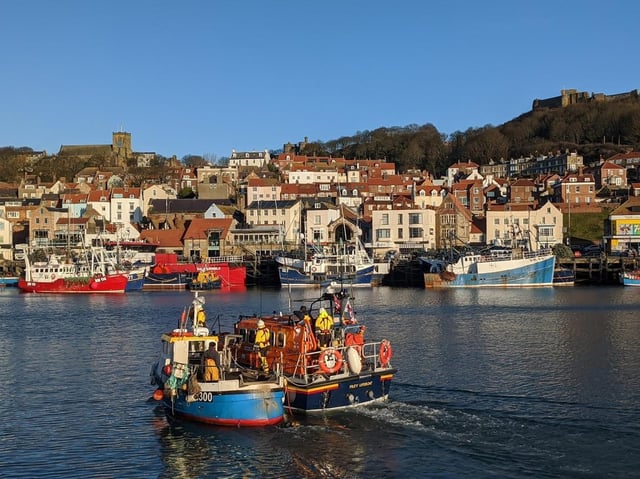 Filey lifeboat's rescue operation. Picture by Chris Burrows.
Just before 8am, UK Coastguard (Humber) requested the launch of Filey's all-weather Mersey class lifeboat (ALB), Keep Fit Association, to the 10 metre fishing vessel, Staggering In, with one person on board which had a fouled propeller about one mile north of Filey Brigg.
As it was shortly after high water, the ALB was launched very quickly under the command Coxswain / Mechanic Neil Cammish with Dave Eblet, Ian Butler, Gary Wilson, Fraser Haddington and Lewis Frampton as crew.
Within ten minutes, the ALB was alongside the fishing vessel and the decision was made to tow it to Scarborough Harbour where it was safely berthed just after 9.30am.
The ALB was re-carriaged back in Filey by about 10.30am.
John Ward, from Filey Lifeboat said: "Our all-weather lifeboat was quickly on scene to ensure that the crew member was safe and well. One of the ALB was transferred across to the Staggering In and then we towed the boat to Scarborough. We had over 14 of our volunteer crew turn up at the station when the alert was made so many thanks to everyone who assisted."