Filey lifeboat rescues 12m boat with engine problems 25 miles from coast
Filey RNLI volunteers were called out in the early hours of this morning (Thursday January 9) to assist a fishing vessel in heavy seas and driving rain.
Thursday, 9th January 2020, 4:02 pm
Updated
Friday, 10th January 2020, 3:57 pm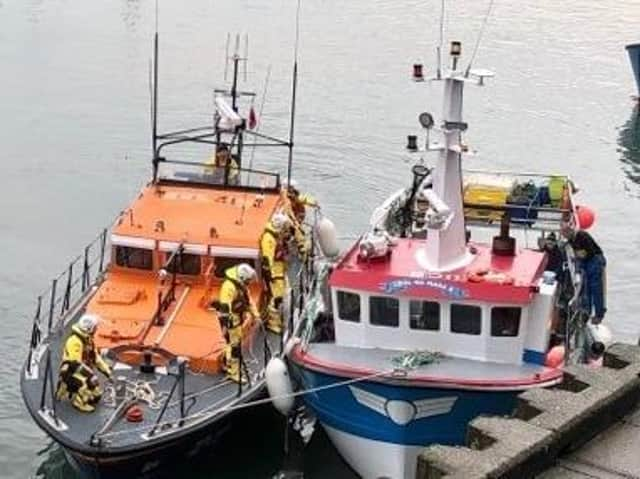 The lifeboat and the rescued vessel in Scarborough Harbour. Picture: RNLI/ Michael Bayes
Just before 4.30am, UK Coastguard (Humber) requested the launch of Filey's all-weather Mersey class lifeboat (ALB), Keep Fit Association, to the 12m fishing vessel, Ceol Na Mara, which had suffered engine problems about 25 miles east of Filey Brigg.
Shortly after the alert, the ALB launched with Coxswain / Mechanic Neil Cammish in command and Matthew Wilkins, Paul Wilson, Ian Butler, Fraser Haddington and Lewis Frampton as crew.
Particularly heavy waves made the launch quite challenging and weather conditions continued to deteriorate as the lifeboat made its way to the fishing vessel.
Conditions on scene were described as very poor.
Once the ALB was alongside, it was agreed to take the fishing vessel to Scarborough where conditions were better than at Bridlington and with the wind forecast to increase, it also provided a safer passage.
After a four hour tow, the Ceol Na Mara was safely berthed alongside in Scarborough Harbour. Filey ALB returned to station by 12.30pm having been at sea for over eight hours.
John Ward, Filey Lifeboat Press Officer said: "The ALB crew did an excellent job in very challenging conditions with a very rough sea, strong winds and driving rain.
"It is these types of very difficult rescues that the ALB crew always train for. Scarborough Harbour provided a safer refuge than other ports.
"It was an excellent job well carried out. Many thanks to the crew and all the RNLI volunteers who attended"