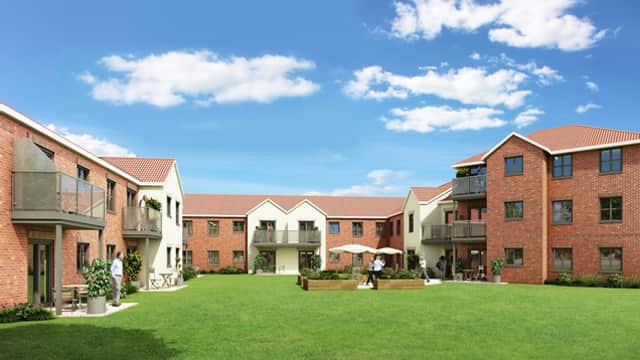 A recent poll by McCarthy and Stone, the UK's leading retirement housebuilder, suggests 67 is the perfect age to downsize, with over eight in 10 retirees who have already 'right-sized' to a smaller property claiming it has made life easier, and one in five saying it's the best thing they've ever done.
Nevertheless, moving to a lower maintenance home can still be seen as a very stressful and time consuming prospect with 45% of over 60s saying they can't face the upheaval of a move, and 35% said they were reluctant to downsize because they can't face clearing out years of clutter.
In truth, the practicalities of packing-up belongings, going through possessions, and throwing things away or de-cluttering can be daunting at any age – but it can be even more off-putting for those who are selling a family home.
However, for those who make the move, there are many benefits – from releasing equity, to being supported to live independently in retirement, and the prospect of enjoying a happier, healthier and better quality of life.
To help retirees realise the positive benefits downsizing can have on their quality of life, McCarthy and Stone has drawn on its forty years of experience to provide some easy-to-follow, practical hints and tips on making the process of 'right-sizing' in 2018, as stress-free and manageable as possible:
Don't rush –Take time to go through items that have been stored in the loft. Reminisce over family pictures and memories so that experience becomes a pleasure rather than a chore.Let your family keep some belongings – Many pieces of furniture and ornaments will hold sentimental value to your children and grandchildren, so make an occasion of getting loved ones over to choose items they'd like to keep.Start small – We recommend that you start with the rooms you use least as these will hold items that will be easiest to let go of. The sooner you see progress, the more motivated you will feel when it comes to tackling the rest of the house.Sell or donate to charity – Furniture that will be too big for your new home might be of value at auction. If unsure visit your local sales house where they will be able to provide an idea of its worth, or better still find a local charity you think could benefit from a donation.Declutter – Most of us have a wardrobe or cupboard filled with clothes we simply don't wear. If you haven't worn something in the last two years, it's probably time it went to the charity shop. You can apply the same principal to other belongings.
Liz Green, Regional Sales and Marketing Director for McCarthy and Stone North East said: "We continually receive feedback from McCarthy and Stone homeowners on how moving into their privately-owned, low maintenance apartment, has helped them to lead an independent and active lifestyle. They have no worries about safety and security, and they reap the benefits of being part of a community of like-minded individuals.
"Following these five simple steps can transform the moving process into a time for new beginnings and something which doesn't have to be done alone, but can be shared with friends and family too."
For those looking for additional practical advice, McCarthy and Stone has published its 'Moving Made Easy' guide which is packed full of information to help retirees with every stage of moving, and which is available to download on the website: www.mccarthyandstone.co.uk, or by popping to a local McCarthy and Stone development.
For more information or help finding your nearest McCarthy and Stone development visit: www.mccarthyandstone.co.uk or call 0800 201 4739.