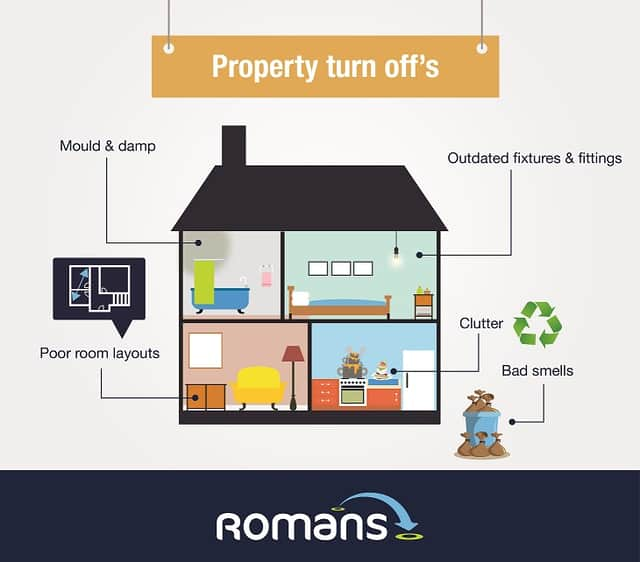 It may seem obvious advice when property sellers want their homes to be presented in the best light and want the maximum price, but our experience at Romans shows that many sellers still forget the simple things and buyers notice them straight away!
"If you want a quick sale, you need to make sure your house is screaming 'buy me'" comments Antony Gibson, Sales Director at Romans.
Romans guide to avoiding the basic pitfalls will help any prospective property seller;
Walking into a property and smelling sweaty feet, left over takeaway boxes and rubbish that has been left in the house is a big negative. Remember, before viewings, make sure you have taken out your rubbish and have aired the house, open some windows and deep clean your property. It's also amazing the difference a few well placed air fresheners can make.
If the furniture does not fit, don't force it. Putting a big table in a small room does not optimise space and makes it difficult for buyers to imagine what they would put in there. Put yourself in a potential buyers place and look at your layout with a fresh eye. Don't be afraid to move furniture around to enhance the overall appearance.
Outdated fixtures and fittings
If the handle has come off the door, or a bulb has gone, then replace them. Even though outdated décor is not a big issue, don't redecorate with fancy designs as buyers want a blank canvas to put their own stamp on. However, fixtures and fittings do need replacing. Don't skint on saving a few pounds when it can end up clinching a sale. However, a fresh lick of neutral paint throughout and freshened décor would not go amiss if wanting to sell the property quickly.
The worst situation is to walk into a house where you cannot move, as there is so much stuff in the way and washing up is spilling over onto multiple surfaces. Before you decide to sell the property have a massive clear out. If you have not used it or if it is broken, recycle it, or give it to charity.
This is a big property turn off; it signals that there are multiple issues that need sorting. If you want a quick sale you should resolve these issues before putting your property on the market. It is likely that serious issues will be found during the survey and will end up affecting the sale process, so rectifying any issues can help a smooth sale.
Thinking about selling your home? Then make sure you don't turn off any potential buyers and seek professional advice from your local team of Romans' agents.