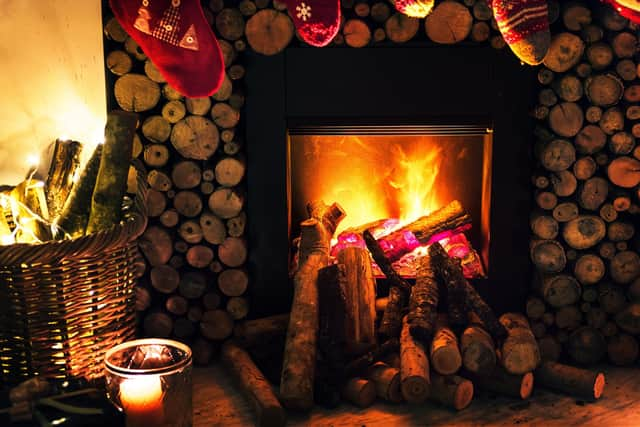 Traditionally, the housing market always slows down in the run up to Christmas....but there are advantages to marketing a home in this festive season.
These colder months bring committed buyers, less competition and homes can be viewed at their cosiest, so there's no need to wait until the spring....
NAEA Propertymark has put together top tips for sellers to show off their home's best features, right now...
Make sure your home is warm and well-lit, as this can encourage potential buyers to stay longer and help them see themselves living in the property – especially during the winter.
Set your heating to come on during the day when you have viewings and spread throws in your living room.
If you have a gas fireplace, light a fire to welcome visitors and create a warm and cosy ambience – but if your fireplace tends to leave a smoky smell in the room, hold off.
Try and take advantage of the holiday season but don't go overboard on the festive decorations.
A house that feels cluttered with Christmas décor can deter buyers and an inflatable snowman doesn't appeal to everyone.
Buyers should be able to envisage themselves living in your home, so it pays to make it as inviting as possible.
A beautifully decorated Christmas tree and a cinnamon scented diffuser are probably all you need.
First impressions really do count, so make sure the first thing your buyer sees is a tidy exterior. If your front door is looking a bit shabby, buy a new doorknob, a brass letterbox or a stainless-steel house number; these small touches can instantly make your home feel more welcoming.
Add a wreath on the door or hang some fairy lights outside – and keep paths clear of snow or ice.
Agents are regularly told by house-hunters that they want a light and airy property.
As daylight hours are limited during winter months, maximize the light whenever possible. Install higher wattage bulbs and turn on the side lights to create a warm glow from the street.
If it's dark, make sure the curtains are drawn so buyers don't feel like they'd be too exposed living in your property.
Washing the windows will help you maximise the precious daylight hours. Get rid of cobwebs and dust all your furniture, ceiling fan blades, and light fixtures.
Bleach any grout and polish chrome faucets and mirrors.
Make sure any problems with the property that are more prominent in the winter - such as damp or a faulty boiler – are fixed prior to putting the house on the market.
Increased rainfall over the winter can take its toll on guttering, so check the gutters and drain covers are properly cleared of dead leaves and other debris, as leaky gutters and down pipes cause damage and are unsightly.
Mark Hayward, chief executive of Propertymark, said: "Although it's dark outside and the prospect of making your way through the Christmas TV listings sounds more appealing than selling your home, the period before Christmas is a great time to do so.
"In January, sellers flood the market and supply shoots up meaning there's less competition and you may find it more difficult to secure an offer.
"There are lots of things you can do to entice potential buyers looking to make a winter purchase, so we've compiled a list of top tips. Don't forget to go to your estate agent for advice as well, as they should be well equipped to adapt to selling homes in these quieter periods."