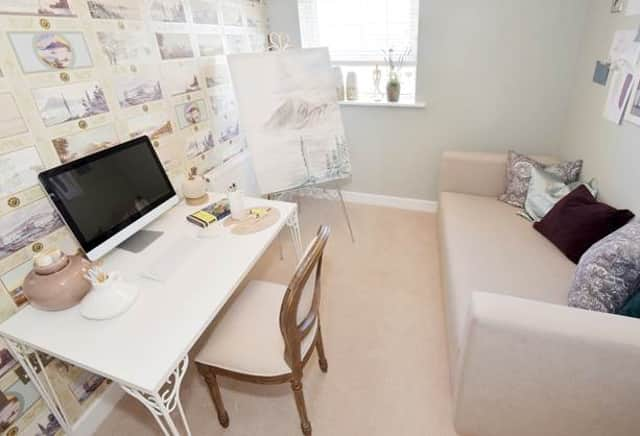 Having a designated study in your home can provide a space to separate your work from the hustle and bustle of family life, and gives you room to concentrate and focus on the tasks ahead.
Tips on creating a good home study come from David Wilson Homes, who craft a number of properties that feature their own studies.
The developer ensures all its homes have rooms that offer the versatility to be easily transitioned by their owners into a work space.
Bev Hall, a sales director at David Wilson Homes, said: "Working from home and having a study is a priority for many of our customers and we've made sure our properties have been designed to support these needs.
"By putting together a list of helpful hints and tips we want to encourage homeowners to create a productive workspace."
Top tips include letting natural light flow in to your work space if at all possible.
This is done by featuring large windows, and a layout that allows one room to flow easily into the next.
Natural light is really important in a room where you will spend your working days and has many benefits, including improving your mood and vision, as well as helping to conserve your energy.
Ensuring you have a relaxing area to work in is key in your study because you'll be sitting there for long periods at a time.
Invest in a comfy armchair and make sure your computer and keyboard are in the right positions on the desk to maximise productivity.
When it comes to decorating your study, choose a colour that will not only inspire you, but will also aid productivity and keep you calm.
Pale blues and greys are ideal for creating a serene and tranquil backdrop, while yellows and oranges are said to boost positivity and spark creativity.
The last thing you want to be doing when working from home is nipping into the living room or kitchen every five minutes to look for something.
Make sure you have a designated space for your stationary needs so you can ensure you're 'in the zone' and won't be distracted by having to go and search for required items .
For more information on David Wilson Homes or any of its developments call 0844 811 4333 or visit www.dwh.co.uk