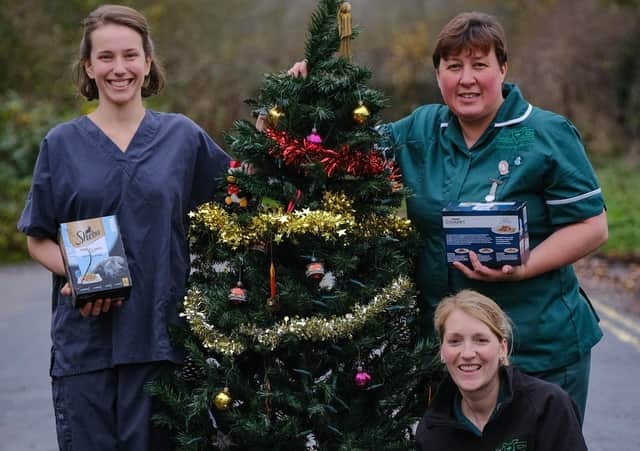 Staff at the Mount Veterinary Group in Malton who have launched a Christmas appeal at the practice.
Throughout the festive season, Mount Veterinary Group is collecting donations of food, biscuits and treats for cats and dogs to help owners struggling to afford to feed their pets.
The practice in Middlecave Road, Malton, is also collecting human food following a rise in the number of families and individuals using Ryedale Foodbank, which provides emergency food and support to local people referred to them in crisis.
Since it was established six years ago, Ryedale Foodbank has fed 6,000 people – one-third of whom were children – at its three centres in Malton, Pickering and Norton.
Last December Ryedale Food Bank helped more than 180 people and expect to see at least a 50% increase on that number in 2019. There are also worries about pet owners facing the heartbreak of having to give up their beloved pets through financial hardship.
Malton Vets veterinary nurse Michelle Coatsworth is organising the special foodbank at the practice, where clients have until the run up to Christmas to donate food for humans, along with pet food, biscuits and treats.
Michelle said: "Our aim is to collect as much food as possible to help those at the heart of the community we serve, whether it is donations for families and individuals in need or for their pets.
"Last year we collected food for cats and dogs, but this year we are expanding our appeal to help people who are also in need of support."
John Mackenzie, a volunteer with Ryedale Foodbank, said: "People are in crisis and the last thing they want is to lose their pets because they are part of the family. We always ask people coming to us with a voucher if they have any pets so we can help.
"We are very grateful for the donations of food for people who rely on the foodbank and we would like to think that providing owners with pet food will help them keep their pets in their own home, which is the best for all concerned and will ease the fear of having to give them up."