New heart for your home using latest trends
Tuesday, 16th January 2018, 2:00 pm
Updated
Tuesday, 16th January 2018, 2:10 pm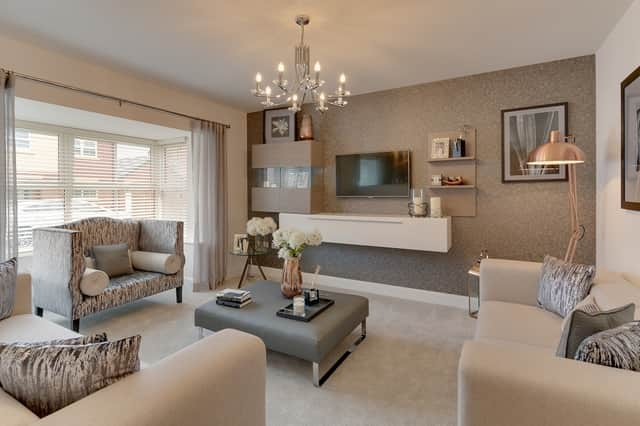 Now is the time when many people start to think about revitalising their homes with fresh decoration or accessories.
New home developers and the stunning show homes that they create provide an ideal source of information as designers emulate current trends and give practical displays as to how to style each room.
"2018 will see our homes revert to a more simplistic, elegant scheme where less is more, adopting calming colours and finishes," said Jeanette Holmes, interior designer to Miller Homes Yorkshire.
"Muted shades will complement mirrored furniture, natural woods and a general simplicity that we have not seen for a while."
Dulux's 'Colour of the Year' is Heart Wood, a warming pink which can provide the basis for a relaxing palette which will see it easily paired with other shades of taupe, coffee, mink, champagne and grey.
Teamed with the ongoing trend for crushed velvet, silk and linen fabrics, a peaceful platform can be built for subtle accessories.
"We are seeing a definite shift in people moving away from lots of home accessories, with house plants and personal items taking centre stage over others such as inspirational signs and lots of bold coloured statement pieces," said Jeanette. "Such schemes do bring a timeless elegance with them and, even better, they are entirely suitable for most rooms in our homes."
"The warm pink shade of Heart Wood is entirely suitable to living rooms, sophisticated bedrooms and en-suites, with stylish bedding, cushions and towels easily accessorised against the warmth of the colour. Use it as a feature wall or decorate your entire room, this colour along with many others on trend at present can be so versatile."
Jeanette concluded; "Embracing new trends does not have to be about completely redecorating. Perhaps just a change of colour on one wall and a handful of new accessories could revitalise a tired living room. Or, if you're just one of many that has fallen in love with the Millennial Pink trend – a warm pink could be brought into your home via new bedding or perhaps towels!"
The designer is currently working on a scheme for the housebuilder's next show home, a five-bedroom executive property at its Shires Grove development in Boston Spa.