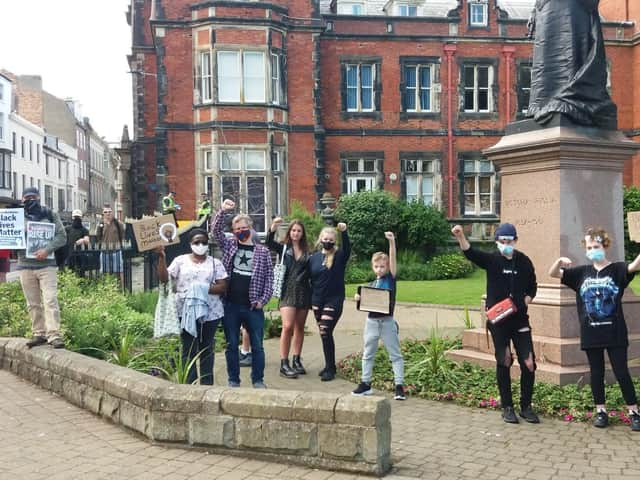 Photo courtesy of the event organisers
Around 80 were at the event outside Scarborough Town Hall on Saturday.
The event passed off peacefully, although organisers say police were present and are reported to have issued dispersal orders to several people in the area at the time who were not involved in the rally.
The protest - where organisers had urged people to stay at least two metres apart and wear face coverings - included people taking to the microphone to share their experiences of racism.
Photo courtesy of the event organisers
They also 'took the knee' as a mark of respect to George Floyd, the black man who died after a white officer knelt on his neck for nine minutes and whose death has sparked worldwide Black Lives Matter protests.
Jay-Lee Atkinson and Amy Miller, who planned this event and another last weekend, said: "We could not be more pleased with the support we have received from the local community.
"We would like to thank everybody who showed their support, whether they were able to attend these events or not, and we would especially like to thank those who were brave enough to stand up and speak out to the people of Scarborough.
"Going forward, we have created a Scarborough Black Lives Matter group where we hope to place the conversation in the hands of the public to continue discussions further.
Photo courtesy of the event organisers
"We hope it will provide a sense of presence for this cause that can be grown over time within our little seaside community!"
Lee said in a town where the majority of people are white, he believes it is particularly important to have discussions about racism.
"Racism is so ingrained, people often-times do not know what is or is not racist," he said.
"But if people are willing to learn and correct themselves, then maybe over time this normalisation of racism will diminish."
Photo courtesy of the event organisers
The pair plan to hold another event on Saturday, June 27.
Described as a "citizens' assembly", it will take place at 3pm outside Scarborough Town Hall.
It will be co-hosted by Extinction Rebellion Scarborough and will feature discussions around race, colonisation and climate justice.
Those who want to take part will again be advised to wear masks and observe appropriate social distancing.