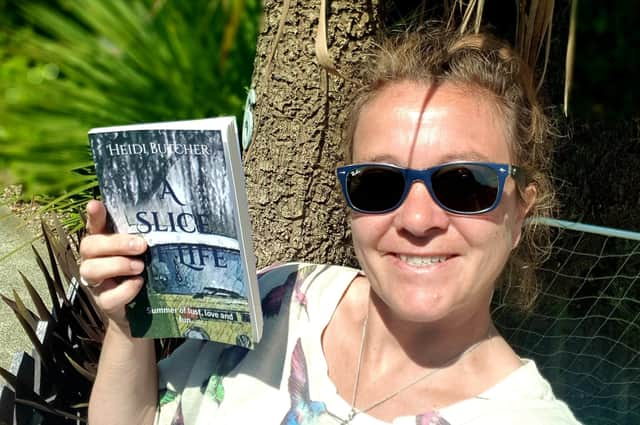 Heidi Butcher is pictured with A Slice of Life: A summer of fun, lust and love.
Heidi Butcher has written 'A Slice of Life: A Summer of Fun, Lust and Love'.
Heidi's tome centres around a protagonist called Annabel. She leaves the Navy to live in a caravan before being dumped by her cheating boyfriend.
Deciding to make it on her own with just her clothes in her suitcase she finds out how to take a punt on life during a summer of fun, lust and love.
Heidi said: "I started writing the book in 2017.
"It was finished around two years later. It took quite a while to finish as I was running a business and had a small child. I was writing when I had a minute to spare.
"The book is based around a girl called Annabel who has a stop-start life and by pure accident her destiny changes.
"The short novella tells a fictional romance, a good read while chilling by the pool.
"I am currently writing part two, which will be joined together with part one to make it into a novel."
The book (ASIN: B077GY5DXP) is available through Amazon. The paperback version costs £4.40 while the Kindle offering is priced at 77p.
Go to tinyurl.com/2s38r25a to find out more information.
Click here for more details.