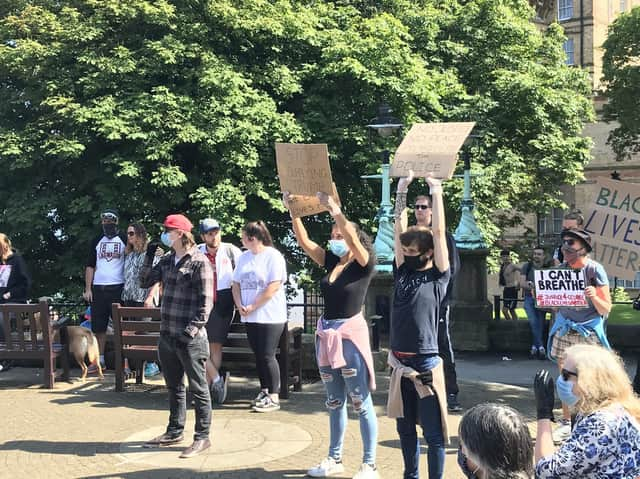 Last week's Black Lives Matter protest in Scarborough.
The Black Lives Matter demonstration will be held outside the Town Hall from 3pm.
Organisers have requested that anyone planning to bring placards ensure the messages on them are "based on fact", and not divisive or disrespectful.
They are also urging those who want to take part to wear face coverings, masks and adhere to social distancing guidelines.
Last week's Black Lives Matter protest in Scarborough.
Jay-Lee Atkinson, who has been arranging the protests with his girlfriend, Amy Miller, said: "As we continue to protest, I will remain vocal on the importance of abiding by health and safety guidelines to ensure that any risk is as minimal as possible, but ultimately it will come down to personal responsibility of the attendees to make sure that this happens."
He added his thanks to the police for their approach towards the right to protest.
Last Saturday's protest passed off peacefully, despite some verbal exchanges between the Black Lives Matter supporters and a crowd who had gathered around a nearby statue of Queen Victoria.
It included an eight-minute silence towards the end when many 'took the knee' as a mark of respect to George Floyd - the black man who died after a white officer knelt on his neck for nine minutes.
Black Lives Matter protests have been taking place across the world since Mr Floyd died during a police arrest in America last month.
A police officer has been dismissed and charged with Mr Floyd's murder.
Three other officers who were at the scene have also been sacked and charged with aiding and abetting.