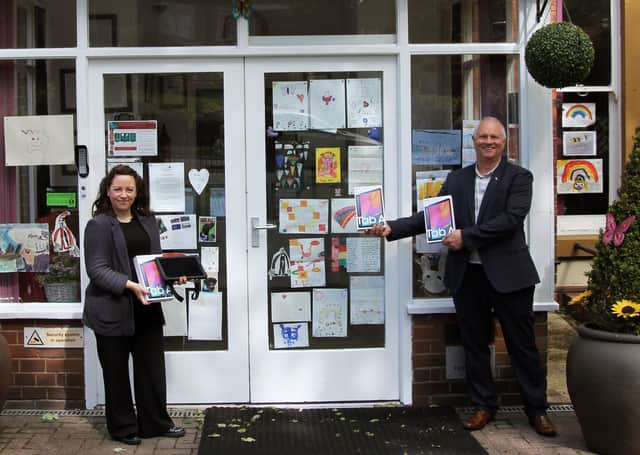 Scarborough Freemason Karl Ward (right) presents the tablets to Anne Brand (Saint Cecilia's Care Group).
Saint Cecilia's Care Group has received a donation of some computer tablets from the United Grand Lodge of England.
And they are using them to make video calls between their residents and their family and friends during the coronavirus pandemic.
Saint Cecilia's managing director Mike Padgham said: "At the moment I'm afraid our residents are in lockdown and unable to have face-to-face contact with their loved ones and friends, to help keep them and our staff safe during coronavirus.
"Therefore we are reliant on using video calls to help our residents stay in touch with their relatives during this difficult time.
"This donation of tablets is therefore absolutely brilliant and we are very, very grateful to the United Grand Lodge for the donation. It is very generous and we want to say a huge thank you to them."
Scarborough Freemason Karl Ward, provincial communications officer for the Freemasons of Yorkshire and East Ridings, said: "We are delighted to be able to make this donation to Saint Cecilia's Care Group and hope that it proves valuable to their residents and families.
"It is nice to see a local care provider benefitting from our national fundraising efforts in this way."
Tracy Calcraft used to visit her grandmother Grace regularly at Saint Cecilia's Nursing Home where she is a resident. But since coronavirus she has been unable to and relies on video calls to keep in touch.
Tracy said: "It has been difficult but video calls do help us to stay in touch and to see our families regularly.
"This is a very generous donation by the Freemasons and will greatly assist us in staying in contact with Saint Cecilia's."
Grace added: "We are being very well looked after here in the nursing home and the nursing staff and carers are doing a wonderful job.
"Nevertheless it is marvellous to be able to see our families regularly and the tablets are amazing."
Thousands of personal computer tablets are being provided by Freemasons across England and Wales to more than 50 hospitals, care homes and hospices to help families stay in touch with their loved ones.